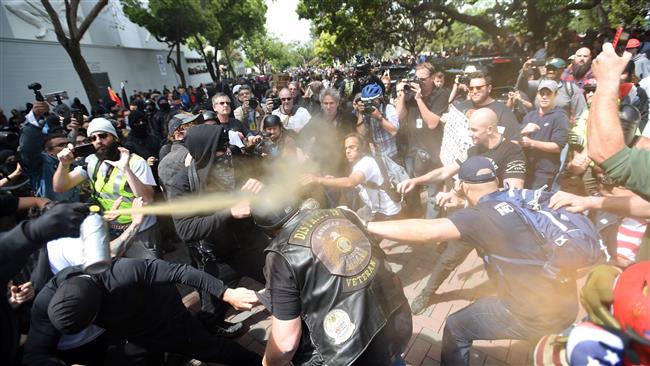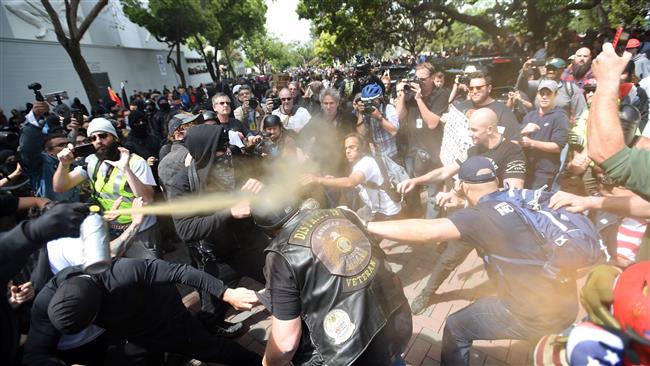 At least 21 people have been arrested and 11 injured during clashes between supporters of President Donald Trump and counter-protesters in Berkeley, California.
Almost 200 people gathered at Martin Luther King Jr. Civic Center Park on Saturday morning to hold a "Patriots Day" rally, but clashes erupted between the two groups as the crowd swelled to between 300 and 700.
"A large portion of the crowd has now moved into the street and some fights have broken out," Berkeley police said.  "Currently, Allston Way between Milvia St. and Martin Luther King Jr. Way is blocked."
The protesters exchanged heated words and hurled rocks and sticks at each other with some of them using a large trash bin as a battering ram as the mob moved around the perimeter of the park.
Fireworks and smoke bombs were thrown into the demonstrators and some of them were doused with pepper spray.
Police in riot gear clashed with protesters and quickly made one arrest but as more fistfights broke out more protesters were taken into custody.
"We're going to review any surveillance video recordings from the area, as well as videos the public sends in to us, and perhaps send out arrest warrants for those people as well," Berkeley police spokesman Byron White told CNN.
Berkeley police also said that they had known about the rally and the counter-protest for some time.
"Our No. 1 goal is to make sure that our community has an opportunity to practice its First Amendment rights," police Sgt. Andrew Frankel said.
According to authorities, eleven people were injured, including one who was stabbed.
This comes as thousands of other protesters gathered in cities across the country to pressure Trump to release his tax returns on Saturday which coincided with the deadline for US tax filings.
More than 150 protest rallies and marches were held throughout the country in major cities, such as Washington DC, New York, Los Angeles, Denver, and Philadelphia.
Read more:
Participants at the DC march portrayed the US president as a greedy politician who refuses to be open about his financial dealings while hundreds wore shirts with an image of Trump's face as the Monopoly mascot.