Economy
Intˈl oil exhibition to be held in Tehran with 1,800 companies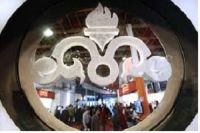 The 19th International Oil, Gas, Refinery and Petrochemicals Exhibition is to be held on Tuesday May 6 in Tehran with the participation of 1,800 domestic and foreign companies from 33 different countries.
IRNA reported, according to the report of Oil Ministry public relations bureau, director of the 19th fair said that Iran is trying to change world atmosphere in its benefit by taking diplomatic methods.
Akbar Neˈmatollahi added that presence of foreign companies in this fair has been threefold.
Referring to the unprecedented number of participants in the fair, he pointed out that the 19th exhibition hosts 600 foreign firms from 32 countries, while in the 18th fair the figure was only 195 from 15 states.
Number of domestic companies is 1,200, which was 850 during the 18th fair, he continued.
The director said that the exhibition is a valuable opportunity for Iranian industrialists, who are eligible to attend more actively in the world arena, adding that strengthening ability for internal manufacturing through exchanging technical information with new industrial, scientific and research achievements are among goals of holding the fair.
Iran as the second oil producer in OPEC with 11 percent of oil reserves and 18 percent of world natural gas reserves holds the exhibition annually.The fair is among the most important specialized exhibitions in the field of oil and gas in the world.
The 19th International Oil, Gas, Refinery and Petrochemicals with the motto of ˈ Expansion of energy diplomacy and strengthening domestic productˈ, kicks off on May 6 and continues until 9 in Tehran.
60 countries will present their products in the exhibition; these countries include Britain, Australia, Austria, Germany, Belgium, Albania, Algeria, Canada, USA, China, France, India, Hong Kong, Iraq, Italy, Japan, South Korea, North Korea, Malaysia, Poland, Romania, Russia, Singapore Spain, Taiwan, Thailand, Turkey, United Arab Emirates, Ukraine and Afghanistan.