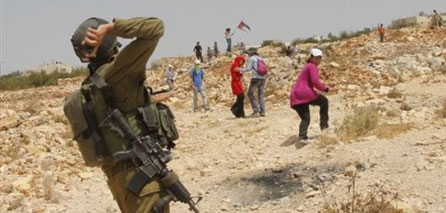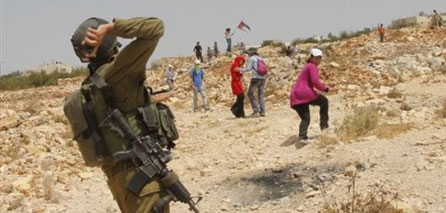 The Israeli occupation forces (IOF) started bulldozing Palestinian land south of Al-Khalil city on Sunday morning to pave the ground for establishing a new settlement, eyewitnesses reported.
IOF troops, meanwhile, quelled a Palestinian peaceful march in Al-Khalil city on Saturday with the participation of foreign activists demanding freedom of movement for citizens in the city and opening the main Shuhada street before traffic.
Jewish settlers poured sewage water on participants while walking through the Old City streets.
Also in Al-Khalil, the Israeli occupation authority (IOA) informed two citizens in Deir Samet village that their houses would be razed.
IOF soldiers handed two other residents of Al-Khalil city summonses for interrogation at the intelligence premises after searching their homes while four others in Halhul village were handed the same summonses.
The IOF command issued a military order confiscating more land in Qatana village to the northwest of occupied Jerusalem to build the separation wall.
The IOF troops also rounded up two Palestinian citizens at dawn Sunday in Ramallah, Yediot Ahronot daily reported, adding that they were wanted for the Israeli intelligence.
The Israeli radio reported on Sunday that the police force rounded up 440 Palestinian workers from the West Bank near the green line (separating the West Bank from Palestinian land occupied in 1948) while en route to work in the 1948 occupied land.