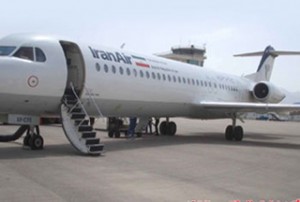 Following new restrictions imposed on certain types of Iran Air aircrafts by the European Union (EU), the major Iranian air liner says its European flights remain unaffected and set to expand.
The European Commission put an outright ban on airlines based in the Philippines and Sudan last week and also announced a minor restriction on European flights by Iran Air.
Ramp checks on Iran Air have reportedly turned up evidence of "insufficient oversight" over the past year, the Commission claims, according to a March 30 report by FlightGlobal.com.
The Commission also announced that experts would be dispatched to Iran over he next few months to study the situation.
Meanwhile, Iran Air flights to Europe will be limited only to its fleet of 18 Airbus A300/310s, nine Boeing 747s, six Airbus A320s and one Boeing 737 aircrafts.
In response, Iran Air's head of public relations, Shahrokh Noushabadi said, "All Iran Air aircrafts that fly to the EU are of Airbus and Boeing types, which are already flying to EU Member States," reported Fars News Agency today.
Since the ban restricts flights by Iran Air's fleet of Fokkers only, it makes no difference to the existing schedule of flights to Europe, explained Noushabadi.
"Iran Air's Fokker aircrafts, which have been placed on EU's banned list, are short-range carriers for flights of no more than two hours," he elaborated. "In fact, no Fokker is used for long-range flights."
Pointing to the inauguration of direct flights from the southern Iranian city of Shiraz to London, Noushabadi added, "If Iran Air flights to EU were banned, then this new route would have been meaningless."
He noted that the number of active Iran Air fleet of aircrafts stands at 67 with no planned additions in the immediate future.