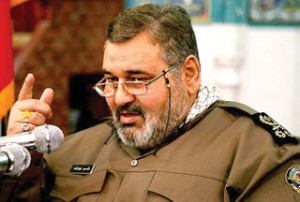 Iran's chief of Joint Armed Forces has warned against US plots in the region and called on authorities and nations of Iran's neighboring states to remain vigilant.
"The US seeks to save itself from the current global economic crisis. It aims to increase its dominance over the Islamic countries as well as third world (countries)," said Major General Hassan Firouzabadi on Saturday.
He pointed to the US plans for stepped-up military assistance to Arab states in the Persian Gulf to help them in countering a "nuclear-armed" Iran, saying, "This is not a defensive or security plan for our Muslim neighbors."
"As Iranian officials have repeatedly announced, the Islamic Republic does not regard either of its neighbors as an enemy," the top army chief said. "Occupiers and their allies are those who brought war and bloodshed to the region."
Firouzabadi's remarks came after US Secretary of State Hillary Clinton on Wednesday took a shot at Iran's nuclear program and said Washington would consider establishing a "defense umbrella" in cooperation with its Persian Gulf allies should Iran refrain from abandoning its nuclear activities.
"If the US extends a defense umbrella over the region, if we do even more to support the military capacity of those in the [Persian] Gulf, it is unlikely Iran will be any stronger or safer," Clinton said.
"They won't be able to intimidate and dominate, as they apparently believe they can once they have a nuclear weapon," she added.
Clinton made the statement while the administration of President Barack Obama has so far said little about extending a defense umbrella over the Middle East.
The US and its European allies accuse the Tehran government of conducting clandestine efforts to obtain nuclear weaponry, warning of an imminent nuclear arms race in the volatile Middle East.
Iran says its nuclear activities are in line with its obligations under the nuclear Non-Proliferation Treaty (NPT) and are aimed at the civilian applications of the technology.