Iran
Iran, Azerbaijan promoting regional, global peace, stability: Rouhani
Iranian President Hassan Rouhani says Iran and Azerbaijan have always been making efforts to promote regional and international peace and stability.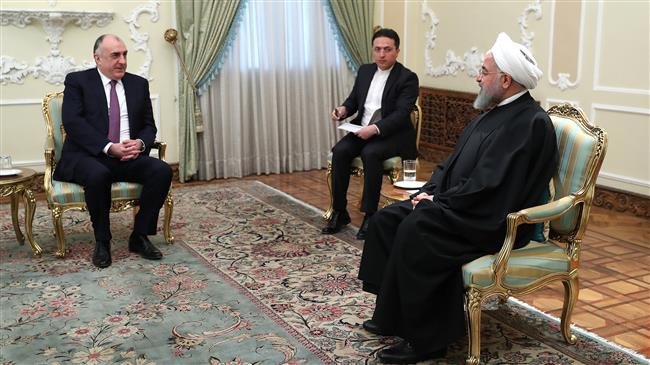 During a meeting with Azerbaijan's Foreign Minister Elmar Mammadyarov in Tehran on Saturday, the Iranian president hailed positive developments in Tehran-Baku relations and stressed the importance of further strengthening of cooperation in all fields.
He added that Iran and Azerbaijan were implementing important projects, including the Rasht-Astara railway, which he said would be a major step towards serving common interests.
The Rasht-Astana railway connects Iran's northern city of Rasht with Azerbaijan's Astara and acts as a link to the Caucasus, Russia and Europe.
Rouhani urged enhanced bilateral cooperation in the energy sector as well as on the construction of dams and power plants.
He emphasized the significance of bolstering relations among Iran, Azerbaijan and Russia and said there were various projects in the region which could be implemented in tripartite and multilateral cooperation.
Rasht-Astara railway, strategic project: Elmar
The Azerbaijani foreign minister, for his part, said Baku saw no limit to the expansion of political, economic and cultural ties with Tehran.
Elmar added that the Rasht-Astara railway was an important and strategic project in the region as it connected Russia, Azerbaijan and Iran while it also linked Iran to Georgia through the Black Sea.
He also extended Azerbaijani President Ilham Aliyev's formal invitation to his Iranian counterpart to take part in a summit of the Non-Aligned Movement (NAM), which is scheduled to be held in October.
Back in March 2018, the Iranian president hailed amicable ties between Iran and Azerbaijan, saying cooperation between the two neighbors was beneficial to the entire world.
President Rouhani praises friendly Iran-Azerbaijan ties, saying the cooperation between the two neighbors is beneficiary to the entire world.
"We are today witnessing the best of ties between the two nations and governments," Rouhani said in an address to an Iran-Azerbaijan business forum in Baku.
Destructive factors will fail to affect Iran-Azerbaijan ties: Shamkhani
Separately on Saturday, Mammadyarov held talks with Secretary of Iran's Supreme National Security Council (SNSC) Ali Shamkhani to discuss bilateral ties.
During the meeting, Shamkhani said cordial relations between Tehran and Baku had never been against any country and would never be affected by any destructive regional or extra-regional factors.
"The expansion of all-out relations, particularly the promotion of economic ties between Tehran and Baku are the demand of the two countries' nations and officials and will contribute to regional security and stability," Shamkhani said.
He emphasized that the two neighboring countries had great potential to increase the level of trade transactions, which he said could help promote prosperity, stability and security for both sides.
For his turn, Mammadyarov described his talks in Tehran as fruitful and expressed his country's willingness to expand cooperation with Iran in all sectors.
Baku would continue to promote economic cooperation with Tehran and sanctions would fail to have any negative impact on mutual relations, he added.