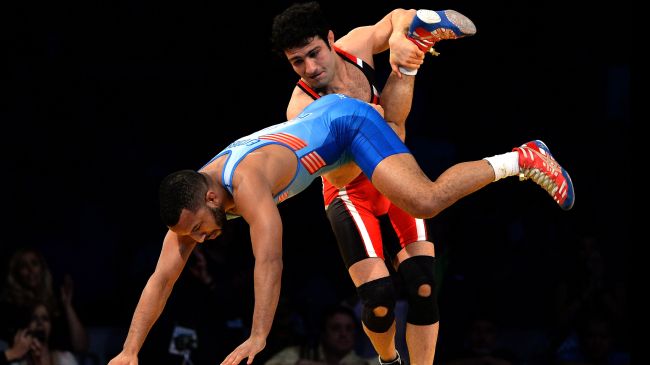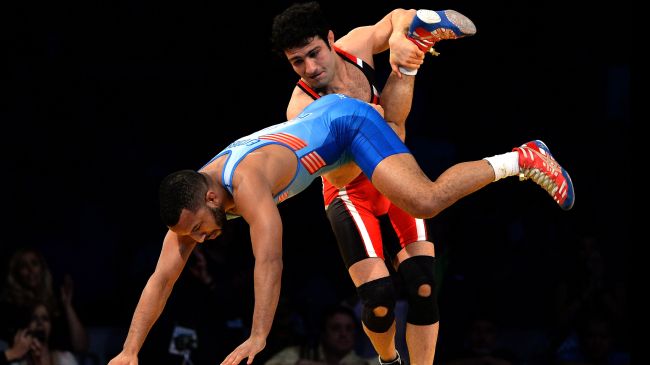 Iran has beaten the United States following victories in the 2014 Freestyle Wrestling World Cup, which is currently underway in the US.
On Saturday afternoon, wrestling enthusiasts jubilated at The Forum in city of Inglewood, southwest of downtown Los Angeles, as they witnessed the Iranian squad win over the host team 18-10 in their third Pool A encounter.
Iran had defeated Armenia 8-0 and Turkey 7-1 earlier in the day to reach the afternoon session.
In the 57-kilogram weight class, Hassan Rahimi defeated his American competitor Angel Escobedo.
Massoud Esma'eelpour registered Iran's second victory against the United States after he beat Reece Humphrey in the 61-kilogram weight category.
Meysam Nasiri, however, conceded defeat in the 65-kilogram weight category, and lost to Harold Brent Metcalf.
Mostafa Hosseinkhani was the winner in his bout against Nick Marable in the 70-kilogram weight class.
American freestyle wrestler Jordan Burroughs recorded a victory in his match against Ezzatollah Akbari of Iran in the 74-kilogram weight category.
Also, Clayton Foster of the United States defeated Iranian athlete Ehsan Lashgari in the 86-kilogram weight class.
In the 97-kilogram weight category, Reza Yazdani overpowered James Daniel Bergman, and the Iranian man-mountain, Komeil Ghasemi, overwhelmed Tervel Dlagnev in the 125-kilogram weight class.
The Iranian freestyle wrestlers will face their Indian competitors on Sunday.
The top 10 men's freestyle wrestling teams in the world are taking part at the 2014 Freestyle World Cup, being held in Inglewood, California on March 15-16.
Iran has been drawn in Pool A along with the United States, Turkey, Armenia, and India. Pool B consists of Russia, Ukraine, Mongolia, Japan, and Georgia.
The winning teams of each pool will compete for the first place; the seconds in each pool will compete for the third place; the thirds for fifth place; the fourths, for the seventh place; and the fifth, for the ninth place.