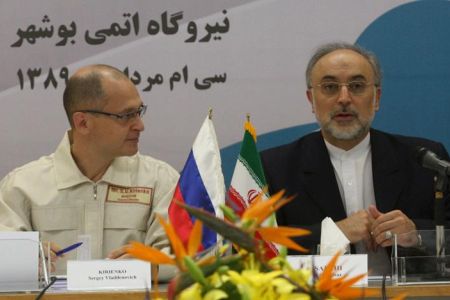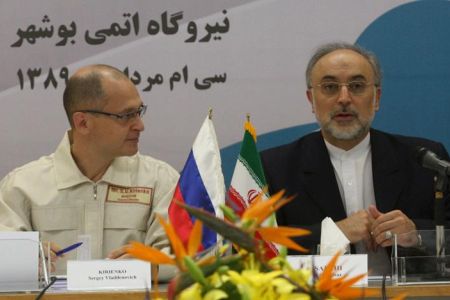 The Head of the Atomic Energy Organization of Iran (AEOI) says the fueling of the country's first nuclear power plant is a peaceful symbol of Tehran's civilian nuclear program.
At a joint press conference with Director of Russian Federal Atomic Energy Agency Sergei Kiriyenko Saturday, Ali Akbar Salehi lauded the launch of the plant as a "victory over enemies" and a symbol of Iran's peaceful nuclear program.
Iran started loading fuel to the Bushehr power plant on Saturday in south of the country. The completion of the plant was originally planned for 1999. However, extensive political and economic pressures by the US and other Israeli allies had delayed construction efforts.
Salehi said the inauguration of Bushehr's power plant despite the ongoing US-led sanctions was a manifestation of Iran's perseverance to achieve its legitimate objectives.
The Russian official, for his part, said that the Bushehr plant was a great international project operated under the full supervision of the International Atomic Energy Agency (IAEA).
He said that Russia has been looking forward to witness the start-up of the plant.
The transfer of 163 fuel rods into the reactor at the plant is to be completed by September 5. Iranian officials say they expect to use nuclear-generated electricity two or three months following the fuel launch of the plant.
Salehi and Kiriyenko also signed the Bushehr operation protocol on Saturday.