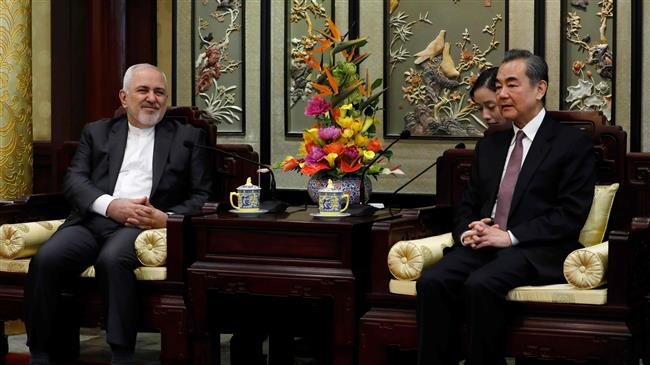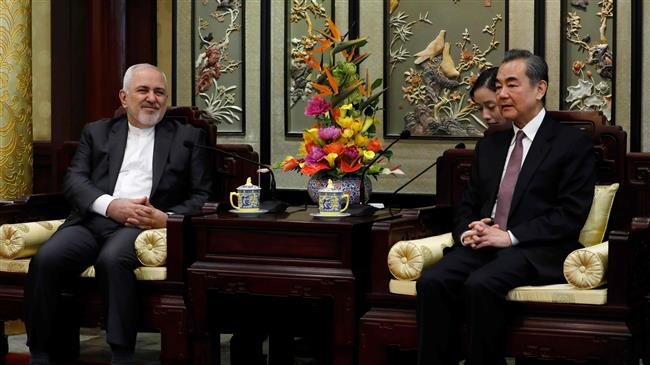 Top diplomats of Iran and China have emphasized the two nations' determination to promote their "strategic" relations in various areas as a high-ranking delegation from Tehran visits Beijing for talks.
During a meeting on Tuesday with Chinese State Councilor Wang Yi in Beijing, Iranian Foreign Minister Mohammad Javad Zarif said Tehran views the "strategic partnership between Iran and China as one of our most important relations."
"Our relationship with China is very valuable to us. We consider the comprehensive strategic partnership between Iran and China as one of our most important relations," said the Iranian minister.
Wang, in turn, told Zarif that China seeks to deepen "strategic trust" with Iran, adding that a 2016 visit by President Xi Jinping to Tehran elevated relations between the two states to a strategic level.
"I would like to take this opportunity to have this in depth strategic communication with my old friend to deepen the strategic trust between our two countries and to ensure fresh progress of the bilateral comprehensive and strategic partnership," Wang said.
The senior Chinese official hailed Zarif's recent speech at the Munich Security Conference, during which he delivered a strong defense of the Iranians' rights in the face of US hostile policies.
"I saw on television how you defended the rights of Iran loud and clear at the Munich Security Conference. I think an audience of hundreds of millions of Chinese also watched what you said and you are a famous person now," Wang told Zarif in front of reporters.
Foreign Minister Javad Zarif is being accompanied by a high-ranking Iranian delegation, which also includes Parliament Speaker Ali Larijani and Oil Minister Bijan Zanganeh.
Separately on Tuesday, Larijani said that Iran and China were expected to hold talks in parliamentary, political, cultural, scientific and economic fields.
Speaking upon arrival at Beijing's international airport, he also noted that the most important goal of his visit was to boost the level of bilateral ties.
"Common interests between China and Iran have led to the reinforcement of mutual cooperation," Larijani said.
Before heading to China, the top Iranian parliamentarian emphasized that the two countries shared close positions on regional and international issues.