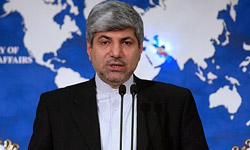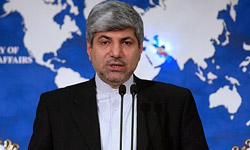 Iran on Saturday extended its condolences to the families of the victims of the Friday shooting spree in a US town, in which at least 28 people were killed.
Iranian Foreign Ministry Spokesman Ramin Mehman-Parast in a statement released today extended his condolences to the bereaved families of the victims over the mass murder of their beloved school children, and voiced deep regret over the shooting incident in the US.
He called on the US society to be part of the movement against warmongering and massacre of innocent people by gunmen in terrorist attacks in different parts of the world.
Mehman-Parast further condemned the killing of innocent people and terrorism in all forms, including state-sponsored terrorism.
"As far as humanity is concerned, there is no difference between the children and teenagers who are victimized by armed attacks in Gaza and the US, Afghanistan or Pakistan and Iraq or Syria, and everyone should try to ensure overall peace, security and tranquility for all the people around the world."
Twenty school children were slaughtered by a heavily armed gunman who opened fire at a suburban elementary school in Connecticut on Friday, killing at least 28 people including himself in the one of the worst mass shootings in US history.
The 20-year-old gunman, identified as Adam Lanza, fired what witnesses described as dozens of shots at Sandy Hook Elementary School in Newtown, Connecticut, which serves children from ages 5 to 10.
The shooting at Sandy Hook Elementary School appeared to be the US' second-deadliest school shooting, exceeded only by the Virginia Tech massacre in 2007, in which 32 people, including two Indians, were killed and 17 others wounded.