Iran
Iran continuing to enrich uranium to 20% level: MP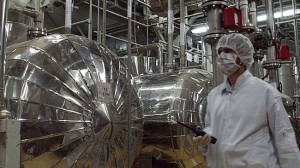 Senior Iranian lawmaker Alaeddin Boroujerdi says Iran is continuing the enrichment of uranium to the 20-percent purity level.
Iran's nuclear energy activities continue as in the past, said Boroujerdi, who is the chairman of the National Security and Foreign Policy Committee of Iran's Majlis, on Saturday.
Iran decided to enrich uranium to the 20-percent purity to provide fuel for the Tehran Research Reactor, which produces medical isotopes for cancer patients, after potential suppliers failed to provide the Islamic Republic with the required uranium.
"During the talks with the P5+1, the Islamic Republic of Iran called for the recognition of its nuclear rights and the lifting of sanctions [against the country]. We should wait for the outcome of these negotiations," Boroujerdi said.
He added that expert-level talks between Iran and the six major world powers would begin this week, emphasizing, "We should wait for their viewpoint."
Iran and the five permanent members of the UN Security Council – Russia, China, France, Britain and the US – plus Germany held two days of negotiations over Tehran's nuclear energy program behind closed doors in Geneva, Switzerland, on October 15-16. The two sides agreed to meet again in Geneva on November 7-8.
Iran's top nuclear negotiator Abbas Araqchi said on Thursday that nuclear and sanctions experts from Iran and the six world powers are to meet in the Austrian capital, Vienna, on October 30 and 31 in the run-up to the upcoming nuclear talks in Geneva.
Iran maintains that as a committed member of the International Atomic Energy Agency (IAEA) and a signatory to the Non-Proliferation Treaty (NPT), it is entitled to develop nuclear technology for peaceful purposes.