Iran
Middle East
Iran Declares Disbanding Another Spy Cell
Judiciary Spokesman Gholam Hossein Esmayeeli declared on Tuesday that Iranian security forces have captured a team of spies operating for foreign states.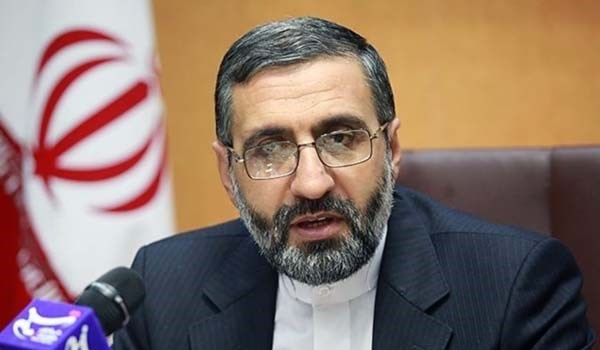 "Members of the (spy) team were identified last year with strenuous efforts of the Iranian security forces and its agents were identified in Iran's sensitive centers, including the nuclear and defense centers and the country's public infrastructures and most of them were arrested," Esmayeeli told reporters in a press conference in Tehran on Tuesday.
He added that two of the spies have received long-term jail sentences, noting that military courts have wrapped up investigations into the cases of other spies, and the prosecutor has asked for death penalty for the the spies.
The spokesman did not mention any further detail about the case or identity of the spies. He also did not say if the case is related to the two spies captured at the Aerospace Industries Organizion earlier this year.
Last month, a former employee of the Iranian Defense Ministry's Aerospace Industries Organization was executed for carrying out espionage operations for the White House and the US spy agency (CIA).
The Judiciary Organization of the Armed Forces reported on Saturday Jalal Hajizavar was executed at Rajayee Shahr prison in Karaj in Western Tehran after being convicted by a military court.
He was dismissed nine years ago and had explicitly confessed that he had collaborated with the CIA and spied for the United States in return for money, it added.
According to the report, documents and spying equipment were discovered at his home.
It emphasized that all legal procedures had been observed during investigations into Hajizavar's case while his spouse also received a 15-year prison term for taking part in espionage activities.
Secretary of Iran's Supreme National Security Council (SNSC) Ali Shamkhani declared in June that the country had discovered and destroyed an extensive cyber network launched by the US Central Intelligence Agency (CIA) to spy on the country and a number of other states.
"It is interesting to know that a while ago, the Iranian intelligence apparatus discovered and cracked down on one of the most complicated cyber networks of the CIA which was used for cyber spying and was an important part of the CIA's operational capacities in the countries targeted by the US," Shamkhani said
He added that given the cooperation between Iran and a large number of world states within the framework of counter-espionage at international level, Tehran had provided its partners with information about the CIA cyber network, which also led to the capture of the members of the network and its eventual annihilation in those countries.
Shamkhani said evidence was available on the operation of the CIA project, adding that parts of the case had also been revealed by the CIA before.