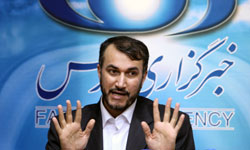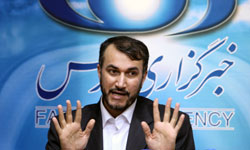 A senior Iranian foreign ministry official categorically rejected the recent allegations made by the Manama officials about Iran's interference in Bahrain's internal affairs, and stressed Tehran's respect for sovereignty of the Persian Gulf state.
"The Islamic Republic of Iran has no interference in Bahrain's affairs," Iranian Deputy Foreign Minister for Arab and African Affairs Hossein Amir Abdollahian said on Wednesday.
"The accusation that Iran has provoked unrests in Bahrain is an insult to the Bahraini people," he said, and reiterated that these are the people of the tiny Persian Gulf island who decide their fate and future.
"Our relations with Bahrain are based on mutual respect and cooperation and at the same time based on the emphasis on the country's sovereignty," Amir Abdollahian, a former ambassador of the Islamic Republic to Manama, told the Arabic Al Alam news network.
The remarks by the Iranian official came after Bahrain summoned Iran's charge d'affaires Mehdi Islami on Monday to protest against what it called interference in its internal affairs.
Iranian officials have always stressed Tehran's support for the efforts made by the people in Bahrain and other regional countries to defend their legitimate rights.
Reports from Manama said the Al-Khalifa regime still continues suppression of peaceful protests in the country despite the regime's claims about its intentions for resolving problems through negotiations.
Anti-government protesters have been holding peaceful demonstrations across Bahrain since mid-February 2011, calling for an end to the al-Khalifa dynasty.
Violence against the defenseless people escalated after a Saudi-led conglomerate of police, security and military forces from the Persian Gulf Cooperation Council (PGCC) member states – Saudi Arabia, Kuwait, the United Arab Emirates, Oman and Qatar – were dispatched to the tiny Persian Gulf kingdom on March 13, 2011, to help Manama crack down on peaceful protestors.
So far, tens of protesters have been killed, hundreds have gone missing and thousands of others have been injured.