Iran
Middle East
North America
Iran DM Downplays Impacts of US Sanctions on Iranian Military Commanders
Iranian Defense Minister Brigadier General Amir Hatami lashed out at Washington for announcing new sanctions against the country's military organizations and figures, playing down their effects on the Armed Forces.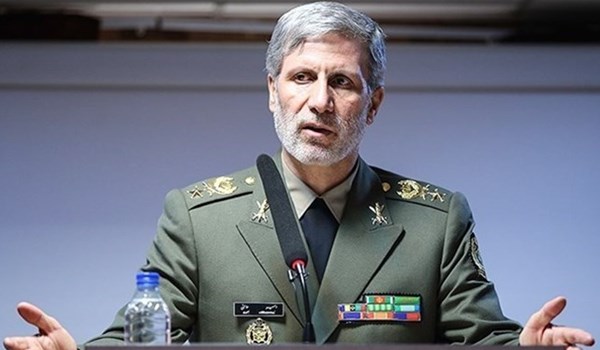 "Our Armed Forces have always been targeted by the Americans as a thorn in the eyes of enemies and this time, they have sanctioned a number of our dear commanders that will have no effects," General Hatami told reporters on the sidelines of a cabinet meeting in Tehran on Wednesday.
He added that the Iranian Armed Forces are managed with reliance on the internal capabilities, and sanctions and pressures will leave no impact on them.
The United States has imposed sanctions on nine individuals and one entity, "who are appointees of, or have acted for or on behalf" of Supreme Leader of the Islamic Revolution Ayatollah Seyed Ali Khamenei.
The US Department of the Treasury's Office of Foreign Assets Control (OFAC) announced the new sanctions in a press release last week, which coincided with the 40th anniversary of takeover of the former US embassy in Tehran.
The department said that it took action against the General Staff of Iran's Armed Forces and its Chairman Major General Mohammad Hossein Baqeri as well as Judiciary Chief Seyed Ebrahim Rayeesi, who was appointed by the Leader in March 2019.
It also slapped sanctions on former defense minister and a commander of the Islamic Revolution Guards Corps (IRGC) Hossein Dehqan and the commander of the IRGC's Khatam al-Anbiya Headquarters Major General Qolam Ali Rashid.
The new sanctions also targeted officials at Ayatollah Khamenei's Office, including his chief of staff.
In response, Iranian Foreign Ministry Spokesman Seyed Abbas Mousavi denounced the US move to impose new sanctions against some Iranian authorities, adding that Americans' resort to "empty sanctions" depicts Washington's inability in diplomacy.
"The US regime's addiction to unilateral sanctions has put its authorities in a passive situation that makes them resort to such empty sanctions in a bid to alleviate their pains and depression that has been caused by their inaction towards the iron-like will of the Iranian nation," Mousavi said.
He was making the comment in reaction to the US imposition of new sanctions against several Iranian authorities.
Mousavi added that such attempts are a result of the "US regime's" inability to use diplomatic means and shows its bullying of other countries in international relations.
He went on to say that the US regime distorts historical and factual realities.
The Iranian diplomat urged the US to stop using terrorism as a means to steal other countries' wealth and take a wise and civilized path.