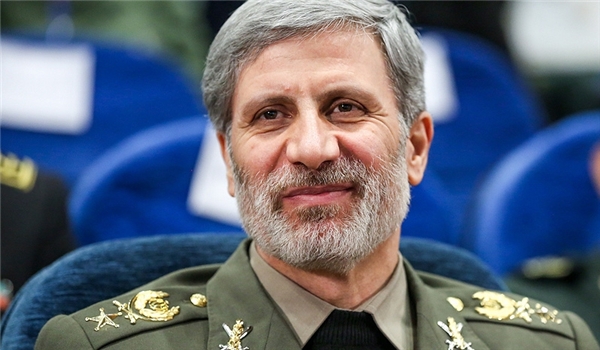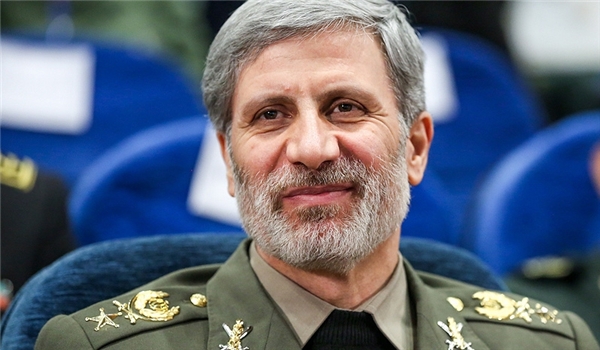 Iranian Defense Minister Brigadier General Amir Hatami underlined that the Ninth International Iran Air Show on Kish Island in the Persian Gulf proves that the US sanctions are ineffective.
"Today, Iran has stood against the liar, disloyal and criminal US officials with full self-confidence and this exhibition shows that they have just disgraced themselves with sanctions," General Hatami said, addressing the inauguration ceremony of the International Iran Air Show on Kish Island on Monday.
He added that Washington has grown isolated in the world due to its disloyalty, cruel sanctions and non-commitment to international peace and security.
General Hatami stressed Iran's peace-seeking policies, but meantime said, "We have (increasing) deterrence (power) on our agenda."
The Ninth International Iran Air Show is being held at Kish International Exhibition Center in the Persian Gulf.
The four-day event provides a platform for participants to showcase the latest achievements in aviation and aerospace industries.
Elaborating on Iran's achievements to be presented in the exhibition, Scientific Secretary of the Air Show Fathollah Qomi said, "We are designing and building a capsule to carry and send human being to the space and it will be unveiled in the exhibition this year."
He expressed the hope that the major project would be put into action in 7 years.
Meantime, Executive Secretary of the Airshow Bijan Bonakdar said that 110 Iranian and foreign companies are participating in the Air Show.
"The Russian Mig-29 team, Baltic Bees Team from Latvia, the Iranian Air Force and the Islamic Revolution Guards Corps (IRGC) Aerospace Force will conduct aerial exercises in this year's Air Show," he added.
Russian aviation companies, including PJSC United Aircraft Corporation and Russian Helicopters, will also attend the event.
Bonakdar had also earlier told FNA that Tehran and Moscow were due to hold talks on buying Russian-made passenger planes during the Air Show.
"Several teams from Russia will participate in the Air Show for negotiations on passenger plane sales to Iran," he said last Monday.
The US Treasury Department announced all sanctions on Iran lifted under the 2015 nuclear deal would be back in force on November 5.
According to Treasury Secretary Steven Mnuchin, the sweeping sanctions will see 700 people blacklisted, including people who were granted relief under the 2015 deal, as well as over 300 new names.
The Trump administration earlier agreed to allow eight countries to continue purchasing Iran's crude oil after Washington's sanctions on Tehran took place.