Iran
Iraq
Middle East
Qasem Suleimani
Iran DM: Iraq Saved from Disintegration by Iran's Support
Iranian Defense Minister Brigadier General Amir Hatami underlined the necessity for closer ties between Tehran and Baghdad, saying that Iran's support for Iraq against the ISIL terrorist group prevented the former's disintegration.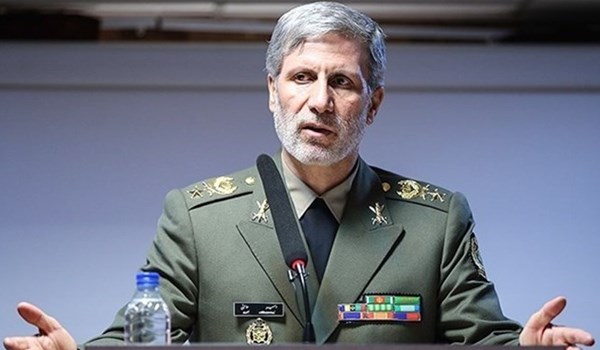 The threats posed to both Iran and Iraq necessitate closer Tehran-Baghdad interactions in order to safeguard the interests of the two nations and bring them economic prosperity and provide regional security and stability, General Hatami said, Hatami in a meeting with commanders of the Iraqi Army's Aviation unit, Navy and Air Defense in Tehran on Thursday.
"The blood of the faithful, committed and patriotic Iranian and Iraqi youths guarantees the stability and security of both countries," he said.
Iraq could have been disintegrated by "ill-wishers and enemies of the peace" had it not been for Iran's support, General Hatami said.
He further emphasized that both Tehran and Baghdad are resolved to develop their bonds.
Former Italian Ambassador to Iraq Marco Carnelos said last month that he had been told by American troops during his time of service in Iraq that Baghdad would have fallen to terrorists had it not been for Iran's measures under Commander of the Quds Force of the Islamic Revolution Guards Corps (IRGC) Major General Qassem Soleimani.
"I had some personal meetings with American officials and they admitted during the meetings that had it not been for Iran's immediate meddling in Iraq in 2014, Baghdad and Erbil would have fallen to the ISIL," Carnelos, who also served as an advisor to Italy's prime minister on Western Asia and North Africa, said.
He added that, based on his experience in Iraq, it was always Americans who were seeking to meet with Iranians and their requests were always declined by the Iranian side.
"I should admit that the US troops deployed in Iraq have a deep understanding of General Soleimani. They praise his capabilities. Through the Quds Force, Iran has managed to impede the American military's progress in the Middle East. The American forces have no choice but to accept the general as a key military figure in the region," highlighted the Italian diplomat.