Iran
Middle East
North America
Iran DM: US Main Cause of Insecurity in Region
Iranian Defense Minister Brigadier General Amir Hatami castigated the US' illegal presence in the Persian Gulf, naming it as the main factor behind insecurity in the region.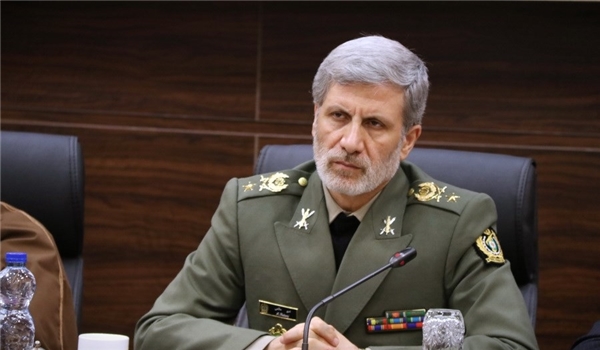 "The Americans have come from across the world to the Persian Gulf, and yet, make baseless claims about security," the defense minister said on Friday on the sidelines of the National Army Day ceremony in Tehran.
"We are here at our home, while they have come from thousands of miles away, putting other countries in trouble through sanctions and threats," he added.
On Wednesday, US Central Command (CENTCOM) announced that 11 speed boats of the Islamic Revolution Guards Corps (IRGC), had been moving alongside six US warships in the Persian Gulf.
The Americans used a fake name instead of Persian Gulf.
In relevant remarks on Thursday April 16, Secretary of Iran's Supreme National Security Council (SNSC) Ali Shamkhani described the country's Army as a source of security for the country and the region and disappointment for the enemies.
The Iranian Army is "a source of fear and disappointment for the enemies", Shamkhani wrote on his twitter page.
He added that presence of the Iranian Army is a messenger of peace, security, and power for the people and fear and disappointment for the enemies.
His remarks were made on the occasion of the Army Day in Iran (April 17).