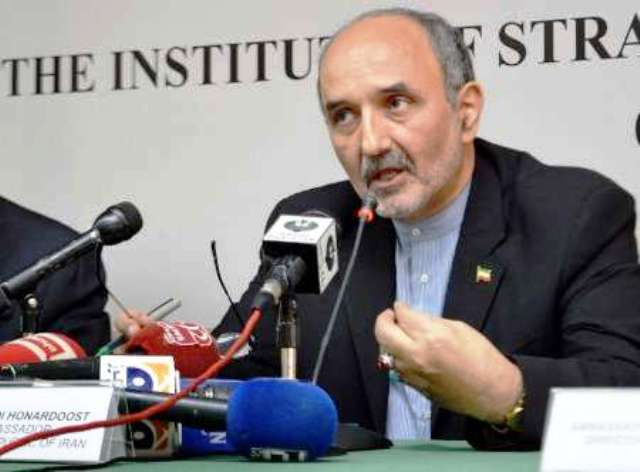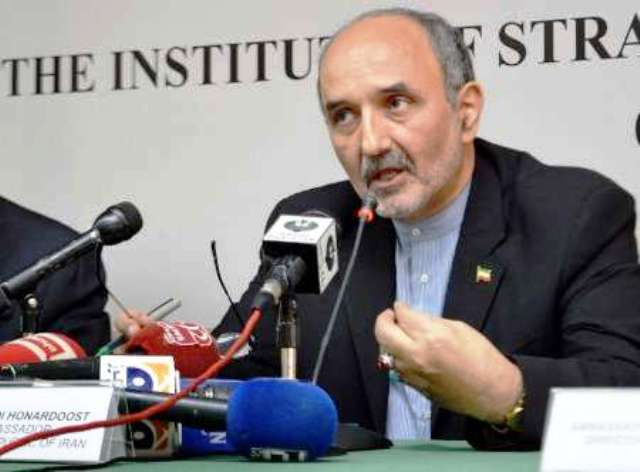 Ambassador of Iran to Pakistan has warned that the United States is trying to sow discord between Pakistan and Iran.
In an exclusive interview with Pakistani English daily 'The Nation' Mehdi Honardoost said there was a huge potential of cooperation between the two powers of the region, "with good neighborly ties and whole history of friendship and fraternity."
He said Iran and Pakistan were determined to boost the relationship, which was "completely opposite to the Western apparatus, creators of division among Muslim societies, which unfortunately has been evident in recent years. The Muslim societies have been under fire of division, which exactly being pursued by foreign elements."
Honardoost said that the issue of Afghan was very important and complicated.
"Afghanistan is since long victim of terrorism, and international powers of trans-region by their secret and open support to the terrorist groups, for their interests have been furthering their designs. Afghan problem has no military solution and peace and durable stability could be achieved in that country through dialogue and discussions," he added.
Honardoost said through cooperation Pakistan and Iran could help resolve the Afghanistan issue.
"Iran and Pakistan as two important neighbors of Afghanistan and through the support of central government in Kabul can find a solution," he maintained.
Honardoost said presence of foreign countries and specifically the US was not the only factor, which was disturbing security and stability in the chaos-ridden Afghanistan.
"Regional problems like terrorism, human trafficking and narcotics trafficking should be solved by the regional countries, which have common perception, common interests and common concerns," he remarked.
Undoubtedly, the envoy said, Iran and Pakistan had an effective role in bringing of peace and stability in Afghanistan.
"In this regard, recently first meeting of the officials of the foreign ministries of Iran and Pakistan was held regarding Afghanistan and hopefully by continuation of discussions, result-oriented steps could be taken," he said.
On the Saudi Arabia-led military alliance, Honardoost said: "Basically it [the coalition] does not have necessary ingredients of an alliance.
From the very beginning of its inception there have been a number of ambiguities about they have persisted so far. Saudi authorities have announced that objective of that alliance been fight against terrorism. While Iran, Iraq and Syria —- the main victims of terrorism are not part of that alliance."
The envoy said oppressed people of Yemen, "who have been target of severe attacks and bombardment for the past two and half years, and are defenseless and part of Islamic world are also nowhere to be seen."
Honardoost said Iran on the basis of non-inference in the internal affairs of other countries, considers presence or non-presence of Pakistan in this alliance as the discretion of Pakistan.
"So on that basis, remaining or not remaining in Saudi alliance depends on Pakistan. But the alliance is contrary to its motto of fighting terrorism," he contended.
About the misunderstandings between Pakistan and Iran, Honardoost said that it was natural that two big countries with a long border might confront problems.
Commenting on the recent visit of Army Chief General Qamar Javed Bajwa to Iran, Honardoost said: "As ambassador of Iran to Pakistan, I am very much optimistic about the future of the ties. Definitely visit of [the] chief of army staff to Iran will have significant impact on strengthening and boosting of friendly and brotherly ties between Iran and Pakistan."
He said there were various areas of cooperation between Iran and Pakistan, and during the recent visit subjects of mutual interest were discussed.
"Security and border cooperation, enhancing of the level of trade ties and achieving the target of $5 billion of business volume, export of more electricity to Pakistan, implementation of Iran-Pakistan Gas Pipeline, were the subjects discussed during the visit," he elaborated.
Asked why the implementation of the gas pipeline project between Pakistan and Iran was delayed, Honardoost said Iran had fulfilled its commitments regarding construction of gas pipeline in the Iranian section and was ready to start export of gas to Pakistan at the earliest in case of implementation of the commitments by Pakistan.
He said no energy source could be replacement of the Iran-Pakistan gas pipeline for growing gas requirements of Pakistan.
"Especially in view of implementation of [the] CPEC [China-Pakistan Economic Corridor] project, Iranian gas will not only fulfil the gas requirements of Pakistan in the coming years rather its transit to China can also be considered," Honardoost explained.
The Iranian ambassador said, "Pakistan by launching of two important operations by the names of Zarb-e-Azb and Raddul Fasaad has taken unprecedented steps towards fight against terrorism. Iran has also shown that it has high potential in fighting against terrorism. At the moment issue of presence of Daesh and other terrorists in the border areas is a serious threat for the two countries and there is possibility of reaching of an agreement by the two countries to jointly fighting against terrorism."