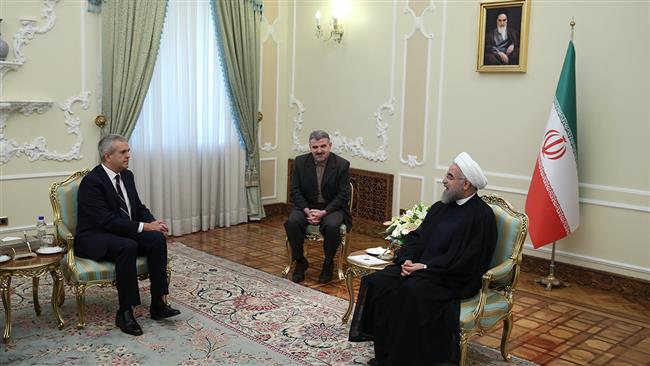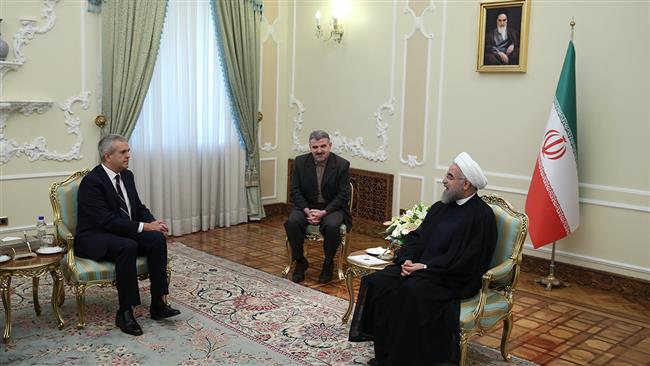 Iran's President Hassan Rouhani says sanctions against the Islamic Republic are planned to be lifted by the end of 2015 as the country's historic nuclear agreement with world powers is close to taking effect.
"Based on the plans, the unjust sanctions [imposed] against the Islamic Republic of Iran will be lifted by the end of 2015," Rouhani said in a meeting with Spain's new ambassador to Tehran Eduardo López Busquets on Tuesday.
On October 18, Iranian Foreign Minister Mohammad Javad Zarif and European Union foreign policy chief Federica Mogherini said in a joint statement that the EU had "adopted the legislative framework for the lifting of all nuclear-related economic and financial sanctions against Iran."
For the decision to take effect, the International Atomic Energy Agency (IAEA) must certify that Iran has met its commitments under the accord reached in July between Iran and the P5+1 countries – the United States, Britain, France, China and Russia plus Germany – officially known as the Joint Comprehensive Plan of Action (JCPOA). The IAEA is expected to issued its report on Iran on December 15.
Under the JCPOA, limits will be put on Iran's nuclear activities in exchange for, among other things, the removal of all economic and financial bans against the Islamic Republic related to its nuclear program.
Iran-Spain relations
The Iranian president further said no obstacle can hinder the expansion of relations with Spain in economic, cultural, scientific, research and tourism fields.
Rouhani added that many European and Asian companies are currently making efforts to win a toehold in Iran's economic projects, noting that Spanish businessmen should be careful not to be outmatched by rivals.
Spain determined to up Iran cooperation
Busquets, who submitted his credentials to the Iranian president, said Spain is determined to strengthen its cooperation with Iran in all fields.
He added that during his tenure in Tehran, he would seek to help improve Tehran-Madrid relations, particularly in economic and cultural sectors.
Besides Busquets, new ambassadors of Mali, Denmark, the Netherlands, India, Japan, Sudan and Uzbekistan also submitted their credentials to President Rouhani on Tuesday.