Iran
Iran is a model for the practical realization of a just peace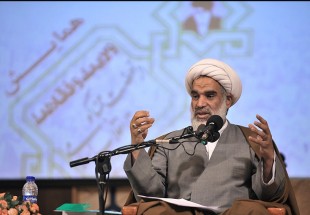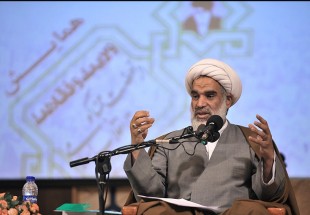 Ayatollah Abbas Ka'bi, the representative of Khuzestan province in the Assembly of Experts, spoke at a conference entitled "Prayers for a Just Peace in the World" on which was organized by the Islamic Culture and Relations Organization. The conference was attended by scholars and leaders of the monotheistic religions in Tehran. Ayatollah Ka'bi said this conference was "a very valuable step to achieve peace in the chaotic and unjust world," reported Rasa News.
He added that the goal of religion was to eliminate oppression, corruption, poverty, discrimination and insecurity, humiliation and to bring justice, prosperity, light, faith, kindness, goodness and human dignity. He explained that true worship and spirituality can be combined with efforts to achieve a just peace.
Ayatollah Ka'bi explained that the Islamic Republic of Iran is a model for the practical realization of a just peace. He added that Iran has a progressive constitution which is practical model for achieving a just peace based on the theory of religious democracy.
In regards to the Takfiri terrorist group's horrendous treatment of religious minorities, Ayatollah Ka'bi explained that ISIL forces Christians and other "People of the Book" to accept one of three options: Islam, murder or ransom. "If we refer to the Quran in regard to jihad we see it contains a completely different perspective from that which the Takfiris are preaching," His Eminence stated, according to Rasa News Agency.
Ayatollah Ka'bi explained that jihad is struggling to serve God and enjoining divine justice. The philosophy of jihad is that it should be performed against those who ferment rebellion or create sedition, oppression, desecration, perjury, arrogance, murder or commit crimes. "Jihad is a mechanism for the formation of a lasting peace not for killing or slavery. The Prophet Muhammad (S) brought Islam to end the oppressive relations between mankind and called for peace," he explained.
He emphasized the compassionate nature of Islam, stating that when the Prophet Muhammad (S) conquered Makkah, he did not kill innocent people by the sword, but rather he made peace with the unbelievers and offered them security, including those who had fought against him, such as Abu Sufyan.
The member of the Society of Seminary Teachers emphasized that we must not abuse religious people and explained that the environment should not be destroyed. "We should not poison our enemies' water! In the divine teachings of Islam, even in war we must abide by the ethics of war, and not act with wrath and commit bloodshed," he explained.
Ayatollah Ka'bi also criticized Takfiri groups for taking ransom for the release of those whom it captures, saying it goes against Islamic law. He stated the Constitution of Madinah as proof of the illegitimate actions of ISIL. The Constitution of Madinah offered all People of the Book under the Islamic state equal rights.
In conclusion, His Eminence emphasized that ISIL to has nothing to do with Islam, saying that ISIL was established by the "global arrogance" to sow discord between Muslims and to loot their oil resources and create chaos in the international arena. "With these actions, they want to tarnish the face of Islam to undermine peace in the region," Ayatollah Ka'bi concluded.