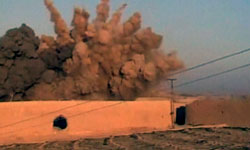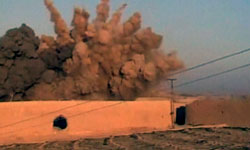 Iran on Thursday condemned Israel's air strike on Sudanese capital city, Khartoum, and called it a clear violation of international laws.
Aggressive action of the Zionist regime warplanes in bombing the Sudanese capital Khartoum on Wednesday is a clear violation of international rules and regulations as well as the country's sovereignty and territorial integrity, Iranian Foreign Ministry Spokesman Ramin Mehman-Parast said.
Such an unjustifiable move by the Zionist regime is originated from its brutal nature, he said warning that it would escalate tensions in the region.
He reiterated that the Islamic Republic of Iran, while reminding regional organizations and the bodies supervising the maintenance of international peace and security of their responsibility in this regard, calls on them to adopt an appropriate stand in order to fulfill their great responsibility against the blatant aggression and prevent its repetition in the future.
The spokesman further called on the regional countries to remain vigilant and take firm stands against the Zionist regime's aggression against the Muslim country and a member of the Arab League.
Sudanese Information Minister Ahmed Belal Osman blamed Israel for arms factory fire after four military planes attacked it.
"Four military planes attacked the Yarmouk plant," he told reporters in Khartoum, adding the planes appeared to approach the site from the East.