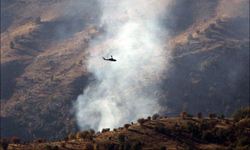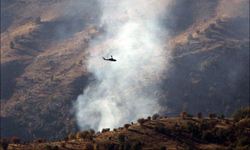 Iran's security forces kill three members of the Party for Free Life of Kurdistan (PJAK) who were behind the explosion that damaged the pipeline carrying the country's natural gas to Turkey.
With the efforts of Iran's security and intelligence forces "three of the perpetrators were killed and four others were arrested this morning," Governor of Iranian northwestern city of Makou Hamid Ahmadian said on Monday.
"The leader of the group was a Turkish national named Jamil who was killed alongside two other [members]," Ahmadian added.
According to a statement by Iran's Intelligence Ministry, the perpetrators of the explosion belonged to the PJAK terrorist group who entered Iran from Iraq to carry out several acts of sabotage, IRNA reported.
In the operation carried out by Iranian forces, weapons and ammunition, documents and plans for terrorist attacks were confiscated, the statement said.
On Friday, an explosion in Iran's natural gas pipeline to Turkey temporarily disrupted gas flow to Iran's western neighbor.
The explosion took place near a village around the northwestern town of Makou close to Iran's border with Turkey. Iran repaired the gas pipeline and resumed the flow of its gas to Turkey on Sunday.
Iran's gas pipeline to Turkey was also targeted in 2010 in the Turkish eastern province of Agri, which borders Iran.
Turkish officials blamed the Kurdistan Workers' Party (PKK) for the explosion.