Iran
Middle East
North America
Qasem Suleimani
Iran made no cuts to defense budgets despite US sanctions: Top commander
A top Iranian military commander has refuted claims made by the administration of US President Donald Trump that Tehran had cut its defense budgets due to Washington's "maximum pressure" campaign against the Islamic Republic.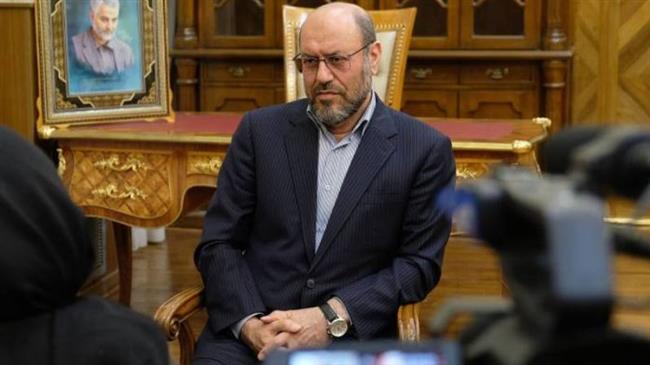 Hossein Dehqan, Iran's former defense minister and current military adviser to the Leader of the Islamic Revolution Ayatollah Seyyed Ali Khamenei, said in an interview with the Financial Times that Tehran had not "made any cuts to the budgets of our military organizations".
"Militarily, today we are definitely in a better situation than three years ago when Mr Trump came to power, in all aspects — from staff, organization to equipment. And we will be better in five years if Mr Trump is re-elected," Brigadier General Dehqan said.
He added that since the formation of the Daesh terrorist group and the rise of insecurity in the region, "we have used all our capacity to organize, train and consult our allies."
Over the past years, Iran has made major breakthroughs in its defense sector and attained self-sufficiency in producing military equipment and hardware despite sanctions and economic pressures on the country.
The Islamic Republic maintains that its military power poses no threat to other countries and is based on its military doctrine of deterrence.
According to the Stockholm International Peace Research Institute (SIPRI), Iran's military spending amounted to just above $12 billion in 2016, in comparison to the Saudi spending of more than $61 billion.
Saudi Arabia, a US ally, has surpassed Russia to become the world's third largest military spender.
Analysts have accused Washington of pouring oil on the flames in the Middle East in order to convince its Arab allies to buy US-made weapons.
Dehqan's remarks came as Trump administration officials have claimed that their strategy towards Iran succeeded to force Tehran to slash its military spending by almost 30 percent and to weaken its ability to support its allies.
Trump unilaterally withdrew the US from a 2015 multinational deal on the Iranian nuclear program in May 2018 in defiance of global objections and unleashed a "maximum pressure" campaign against Iran.
Tensions have skyrocketed in recent weeks after the US military assassinated General Qassem Soleimani and Iraq's Abu Mahdi al-Muhandis as well as their eight companions at Baghdad airport on January 3.
General Soleimani was the Middle East's most prominent anti-terror commander who played a key role in defeating Daesh in Iraq and Syria.
Assassination of Iran's general proves US leads global terrorism: FM The Iranian Foreign Ministry says the US assassination of Iran's top anti-terror commander General Soleimani proved that the US is lading sponsor of terrorism.
The US strategy "is costing them and it costs us. But who is the winner now? Today, we believe our influence in the region has increased despite all this pressure," said Gen Dehqan.
"We will never abandon our regional allies . . . We are not players, we are revolutionaries," he added.
Soon after General Soleimani's assassination, Leader of the Islamic Revolution Ayatollah Seyyed Khamenei said Washington was to face a "harsh revenge" for the atrocity.
The IRGC shortly unleashed volleys of ballistic missiles at the Ain al-Asad air base in Iraq's Anbar Province, which housed US forces. The Leader later described the retaliatory strikes as "only a slap."
Dehqan said "complimentary blows will happen over time" with the aim of driving US forces from the region. But he noted that Iran would not launch attacks against the US "unless America does [against Iran]".
He added that Tehran "saw no reason to order" its allies to act, but would not "prevent them from acting".
Dehqan reiterated that Iran did not want a "full-blown war" with the US, but ruled out talks with Washington, saying they would be pointless.
"The US thinks we are in a weak position and need to negotiate," he said.
"The US wants to negotiate with us to say 'why do you have missiles, why are you present in the region and why do you have military capabilities?' What kind of negotiations are these?"