Iran
Middle East
Technology
Iran masters technology to enrich stable isotopes: AEOI chief
Iran has mastered the technology to enrich stable isotopes of elements other than uranium and Iranian experts have developed the necessary software to do this, says the head of the Atomic Energy Organization of Iran (AEOI).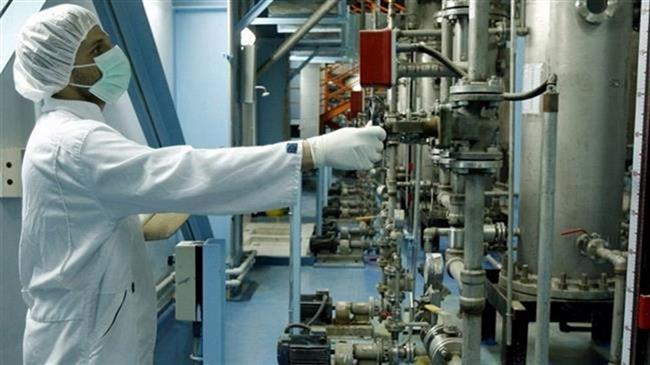 Ali Akbar Salehi made the remarks on Monday while inaugurating a project for the construction of a facility to produce stable isotopes using gas centrifuges.
"We have acquired the science of stable isotope enrichment and its related technology," Salehi said, adding, "Our engineers and technicians have developed sophisticated software, one of which, for instance, consists of 300,000 lines of programming. Iranian experts are also in charge of designing arrangement of enrichment cascades for stable isotopes ."
"We are now using IR1 centrifuges to enrich stable isotopes such as tellurium and xenon on a pilot scale and we intend to take this to the industrial level."
Stressing that enrichment is not limited to uranium, the official added that Iran can enrich other elements as as extension to its uranium enrichment program.
Salehi said some elements in the Mendeleev's periodic table have about 256 stable isotopes and these isotopes have a wide range of applications in various fields of industry, health, agriculture, cultural heritage, and archaeology.
The AEOI chief also announced that the project that he inaugurated on Monday, included the construction of a building complex with an area of about seven thousand square meters, which is equipped with a laboratory as well. Salehi said the laboratory would enjoy very advanced equipment, some of which have been provided and some would be procured in the future.
Iranian President Hassan Rouhani said in January that the country was at the time enriching more uranium than it did before inking the 2015 deal with world powers, officially known as the Joint Comprehensive Plan of Action (JCPOA), as the remaining signatories of the landmark accord had failed to live up to their commitments.
US President Donald Trump, a hawkish critic of the Iran nuclear deal, unilaterally withdrew Washington from the agreement in May 2018, and unleashed the "toughest ever" sanctions against the Islamic Republic in defiance of global criticism.
In response to the unilateral move and Europe's failure to help Iran take advantage of economic benefits of the deal, Tehran rowed back on its nuclear commitments five times in compliance with Articles 26 and 36 of the JCPOA.
The Islamic Republic has, however, stressed that its retaliatory measures will be reversible as soon as Europe would find practical ways to shield the mutual trade from the US sanctions.