Iran
Iran-Pakistan Defense Ministers call for joint confrontation with terrorism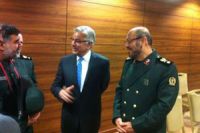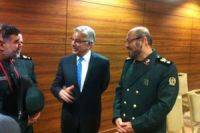 Iran's Defence Minister Hossein Dehqan, on the sidelines of the 3rd International Security Conference in Moscow met with Pakistani Defence Minister Khawaja Asif on Friday and the two sides called for joint confrontation with terrorism.
According to IRNA, in the meeting, the two sides underlined necessity of making efforts to create stability and security in Afghanistan and called for world cooperation to prevent money and weapons transferring to terrorists in Syria to prepare ground for holding presidential elections in that country.
Ministers of Defence also underlined necessity of making double efforts in order to develop defensive cooperation between the two countries like bilateral political ties.
Referring to recent visit of premier Nawaz Sharif to Iran and his meetings with Iranian senior officials, Dehqan considered it as intention of heads of both states to develop and deepen cooperation between Tehran and Islamabad.
He said that Iran and Pakistan have both the problems of terrorism and drug smuggling, and the situation demands more efforts of Tehran and Islamabad to confront with these ominous phenomena.
Dehqan invited his Pakistani counterpart to pay a visit to Tehran to promote bilateral defensive cooperation.
Khawaja Asif, for his part, by referring to religious and historical commonalities between Iran and Pakistan said existence of a powerful and stable Iran is very important for Pakistan.