Iran
Iran president hails Venezuela stance on Palestine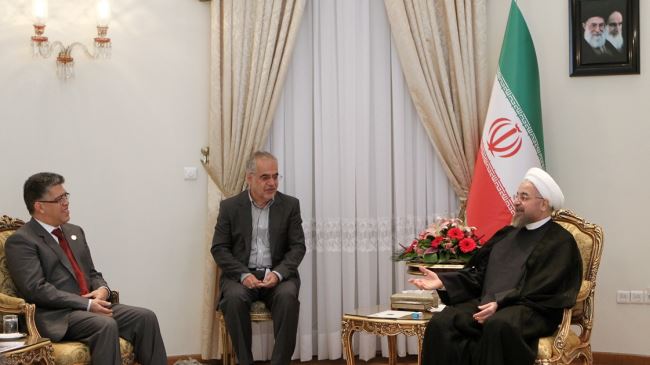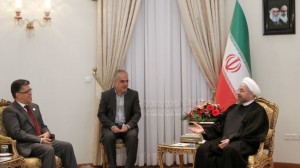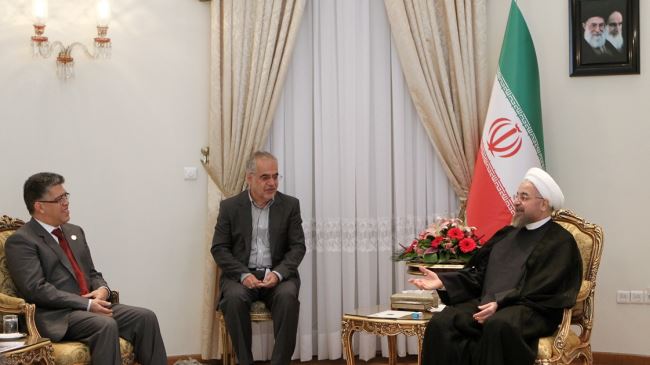 Iranian President Hassan Rouhani has lauded Venezuela's stance on the Palestinian cause, stressing that all independent states should stand united against enemy plots.
In a Monday meeting with Venezuelan Foreign Minister Elias Jaua in the Iranian capital, Tehran, President Rouhani thanked Caracas for adopting very good stances on Middle Eastern issues, particularly the Palestinian cause.
The top Venezuelan diplomat was in Tehran to attend a one-day meeting of the Non-Aligned Movement (NAM) Ministerial Committee on Palestine which was held in the Iranian capital on Monday.
The Iranian chief executive further praised the Latin American country for its efforts to fight against terrorism, adding, "We must all join hands and unite against enemy plots and prevent them (enemies) from putting pressure on the developing nations."
Rouhani also expressed satisfaction with friendly relations between Tehran and Caracas and said the Islamic Republic attaches great significance to its very close and strategic ties with all the independent Latin American nations which stand against superpowers, especially the United States.
The Venezuelan foreign minister, in turn, thanked Iran for holding the NAM meeting on the situation in Gaza, which has been the scene of deadly Israeli attacks since July 8.
Jaua further pointed to late Venezuelan President Hugo Chavez's position on defending the rights of the Palestinian nation, saying the passage of time proved Chavez had made a right decision to cut political ties with the regime in Tel Aviv.
The top Venezuelan diplomat also said Caracas supports Tehran's policies with regards to the situation in crisis-hit Middle Eastern countries such as Iraq and Syria as well as the Palestinian issue