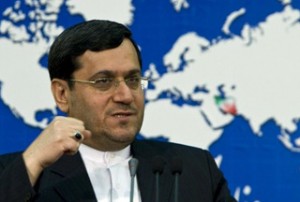 Iran has slammed Argentina for meddling in its domestic affairs after Argentinean officials made allegations against President Mahmoud Ahmadinejad's defense minister- designate.
"The positions taken by Argentine officials obviously amount to meddling in the domestic affairs of the Islamic Republic. We strongly condemn these illegal actions," Iranian Foreign Ministry Spokesman Hassan Qashqavi said on Sunday.
"It is an insult to the intelligence of the Argentinean people that their judicial system pursues judicial cases in line with interests of the Zionists," he added.
Qashqavi's comments came after Argentina expressed outrage over Friday over the designation of Ahmad Vahidi as defense minister, claiming that he is wanted in connection with the bombing of the Argentine Israeli Mutual Association (AMIA) Jewish Community Center, which left 85 dead and wounded more than 300 others.
Although the investigation in the 1990s did identify suspects and no one was ever convicted for the attack, Argentine prosecutors in October 2006 issued warrants for the arrest of several Iranians by the Interpol, accusing Tehran of masterminding the bombing, and the Hezbollah movement of carrying it out.
Iran has strongly denied the allegations, saying Alberto Nisman, the prosecutor of the case, has received huge sums of money from Jewish lobby groups in Argentina to accuse Tehran of the bombing.
Interpol says a red notice is not an international arrest warrant, but the individual is wanted by national jurisdictions and the agency's role is to assist national police in identifying or locating those persons.
"We recommend the government of Argentina to identify the real agents behind this terrorist act," Qashqavi concluded.
Iranian lawmakers are set to vote on Ahmadinejad's 21-member Cabinet line-up over a three-day period starting August 30.