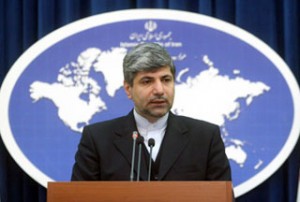 After the UAE Foreign Minster compared Iran's sovereignty over the three Persian Gulf islands to Israeli occupation, Tehran dismisses the remarks as imprudent.
Iranian Foreign Ministry Spokesman Ramin Mehmanparast reacted to the comments on Wednesday saying, "The remarks made about our Persian Gulf islands are neither factual nor calculated."
He was referring to stunning comments by Emarati Foreign Minister Sheikh Abdullah bin Zayed al-Nahayan, who on Tuesday likened Iran's ownership of the three islands to Israel's occupation of Palestinian lands.
"The occupation of any Arab land is an occupation. There is no difference between Israel's occupation of the Golan Heights, southern Lebanon, the West Bank or Gaza, as occupation remains occupation… No Arab land is more precious than another," the minister was quoted by AFP as saying.
"As an Emirati, it is normal that I should be… more sensitive about an occupied part of the UAE than other Arab territories. Otherwise, one would be fooling himself," he added, referring to the three islands in the Persian Gulf.
Mehmanparast stressed that Iran has always tried to promote cooperation among regional countries, adding that misunderstandings between friends can be addressed through bilateral talks, Mehr news agency reported on Wednesday.
Calling Israel the main threat, Mehmanparast advised Emarati officials to "refrain from making comments that serve the interests of the Zionists."
The three Persian Gulf islands were historically owned by Iran but the islands temporarily fell under British control in the 1800s. The islands were returned to Iran on November 30th 1971 through a legal process before the state of the United Arab Emirates was created.
International regulations assert that no state is allowed to defy any agreements that came into being before its creation unless such agreements are officially declared as null and void by the newly-created state.