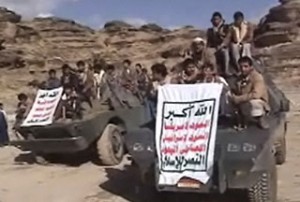 After a Kuwaiti daily claimed that the Islamic Republic has called on the Islamic Resistance Movement of Hamas to swing into action in violence-ridden parts of Yemen, Iran moves to flatly reject the allegation.
In an article published on Wednesday, Kuwait's al-Seyassah newspaper claimed that after "the depth of Iran's involvement" in the conflict in Yemen was revealed, Iran called on the Damascus-based Hamas leader, Khaled Mashaal, to take responsibility for Iran's alleged actions in Yemen's violence-ridden province of Sa'ada.
Meanwhile, Iran's Embassy in Damascus issued a statement on Wednesday, saying the Kuwaiti paper is "notorious" for spreading false and baseless information.
"Al-Seyassah daily is notorious for publishing unfounded reports and the public opinion in the region is well aware of the biased approach of this paper," read the statement.
Yemen has been fighting a war in its northern mountains near the border with Saudi Arabia against a Shia tribal group known as the Houthis, which has resulted in a humanitarian crisis in the region.
Tens of thousands of people have been displaced by the fighting and shelling while hundreds have been killed and wounded in the clashes.
The government accuses the Houthis of seeking to restore a religious rule, which ended in a republican coup in 1962, as well as violating the terms of an armistice by taking foreign visitors hostage in 2009.
The Houthis say they demand an end to social, economic and political 'discrimination' against Shias in Yemen as well as Saudi-backed attempts to spread Wahhabism — a sect that preaches controversial and violent actions — in the north and accuse the government of widespread corruption.