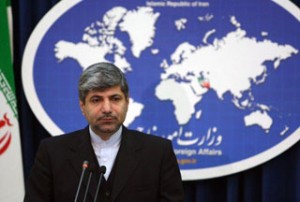 Iran rejects reports that its forces have taken over an oil well within Iraqi borders, while a Baghdad official admits the site is in a disputed border area.
In a Saturday phone interview with Press TV, Iran's Foreign Ministry spokesman described reports about the country taking over an Iraqi oil well as an attempt to harm the close relations between Tehran and Baghdad.
"Some media outlets are using incorrect vocabulary in these reports. This choice of words is not in keeping with Iran-Iraq ties," Ramin Mehmanparast told Press TV.
"Such propaganda is an attempt to harm our close ties with Iraq. Naturally these efforts are part on an agenda that is being followed by some countries which are unhappy about our friendly relations," he explained.
In a separate statement, Mehmanparast said that the two countries have always settled their border disputes through diplomatic means and within the frameworks of the 1975 Algiers Accord, which has clear instructions for times like these.
"Under circumstances where border signs undergo changes as a result of natural disasters or in the aftermath of the 8-year [former Iraqi dictator] Saddam [Hussein]-imposed war against Iran, an Iranian-Iraqi commission will convene to discuss and resolve the issue," read the Saturday statement, citing the Algiers Accord.
Mehmanparast further added that the Iranian Foreign Ministry has already expressed its readiness to convene the commission and is waiting a response from the Iraqi side.
The spokesman's comments came after the Iraqi Deputy Foreign Minister, Mohammed Haj Aziz, claimed that Iranian troops had seized an oil well in the Fakkeh border region on Thursday night.
Prominent Iranian figures including parliamentarian Alaeddin Boroujerdi had already rejected the Iraqi claim, saying that Iranian forces had by no means violated the Iraqi border.
"I strongly reject the claim that Iran has taken over an Iraqi oil well," Boroujerdi said.
He added that the matter was being dealt with through diplomatic channels, while stressing that it would by no means impact the two sides' relations.
Iran's Ambassador to Iraq Hassan Kazemi-Qomi has also described the reports as a futile campaign to harm Tehran-Baghdad ties.
Meanwhile, Iraq's Deputy Interior Minister Ahmed Ali al-Khafaji confirmed that there has been no actual takeover.
"This news is not true. This field is disputed and now it is neglected by both sides. There was no storming of the field, it's empty, it's abandoned, it is exactly on the border between Iraq and Iran," he was quoted by Reuters as saying.