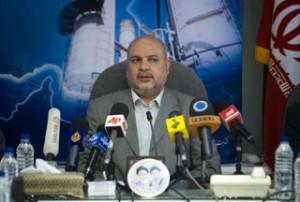 Iran's Oil Minister Masoud Mirkazemi says the country would need $200 billion investment in oil, gas and refinery industries over five years to avoid a production decline.
"For the next five years, we are now…planning seriously for investment of upstream and downstream [of] $200 billion investment," The Wall Street Journal quoted Mirkazemi as saying in Vienna on Wednesday.
He reiterated that sanctions imposed against Iran over its nuclear program will not affect the plan.
"It's about 31 years since Iran got independence and some countries do not like it," he said in reference to the Western countries that have backed Iran sanctions.
"These kinds of sanctions will not have any effect on it [investment]," the Iranian minister added.
Mirkazemi reiterated that Iranian companies could make the investment if foreign companies fail to sign up.
"Today Iran has all the necessary technology," he said.
"If other countries are not interested in entering into negotiations and contracts, we do have Iranian companies that have this potential. In this case, for us it will cost less," he said.
The 156th ordinary meeting of the Organization of the Petroleum Exporting Countries (OPEC) was held in Vienna on Wednesday.