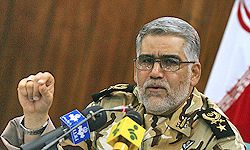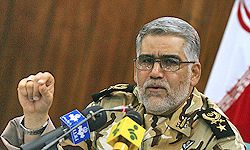 A senior Iranian Army commander stressed that Iran enjoys the ability to supply the country's Armed Forces with their needed military tools and equipment without foreign assistance.
Iran has reached full self-sufficiency in the field of defense industries," Commander of the Iranian Army Ground Force Brigadier General Ahmad Reza Pourdastan said in Iran's Eastern city of Birjand on Tuesday.
"Today, we can powerfully claim that our defense industries are able to produce all the needs of the Armed Forces, including naval, ground and air equipment," Pourdastan added.
He further stressed the Army's high preparedness to repel potential enemy threats, and noted, "Under the present conditions, the Army is ready to confront any kind of ground, sea and air threat and nip it in the bud."
Iranian military officials have always dismissed possible effects of the western sanctions on Iran's defensive power and industries, saying that the country is exporting arms and military equipment to 40 world states at present.
Tehran launched an arms development program during the 1980-88 Iraqi imposed war on Iran, to compensate for a US weapons embargo. Since 1992, Iran has produced its own tanks, armored personnel carriers, missiles and fighter planes.
Yet, Iranian officials have always stressed that the country's military and arms programs serve defensive purposes and should not be perceived as a threat to any other country.