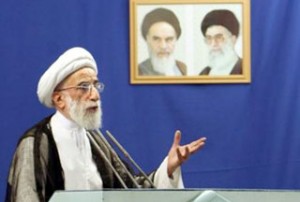 An official says the US decision to extend the sanctions imposed on the country for another year will not force Tehran to submit to Washington's will.
US President Barack Obama, in a Thursday letter to the Congress, renewed sanctions against Iran for another year. "Our relations with Iran have not yet returned to normal," Obama argued in the letter.
Some of the sanctions have been in place since the 1979 US embassy takeover, and have routinely been extended each year by every US president since Jimmy Carter.
The announcement received a cold response from Iranian officials. Tehran's Interim Friday Prayers Leader, Ayatollah Ahmad Jannati, said the country "will not accept US conditions and drop its rights."
"We cannot show the green light to the US officialdom and forfeit [our rights] as a pathetic last resort," said Ayatollah Jannati, who also chairs the influential Guardian Council.
Ayatollah Jannati cited Washington's destructive role in the past and present as the first reason to "keep up the fight" against the US government.
"What do you think it means when the US Congress allocates more than USD 55 million to destabilize the Iranian government. It shows that they have no good intentions towards Iran, and constantly want to engage in enmity," he said.
The Iranian cleric was referring to Victims of Iranian Censorship Act (VOICE), which Obama signed into law earlier this year.
The bill was introduced by Senators John McCain, Joseph Lieberman, Ted Kaufman, Lindsey Graham, and Robert Casey as an amendment to the National Defense Authorization Act.
According to the website of Senator Lieberman, the bill authorizes USD 50 million for the expansion of Persian-language broadcasting in Iran by Radio Free Europe / Radio Liberty's Radio Farda and the Voice of America's Persian News Network.
It will also allocate another USD 25 million in internet-based activities, the website said.