Iran
Iran sole country in Middle East with free elections: Zarif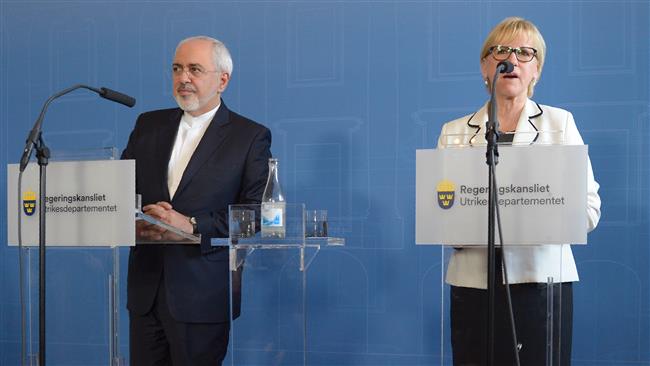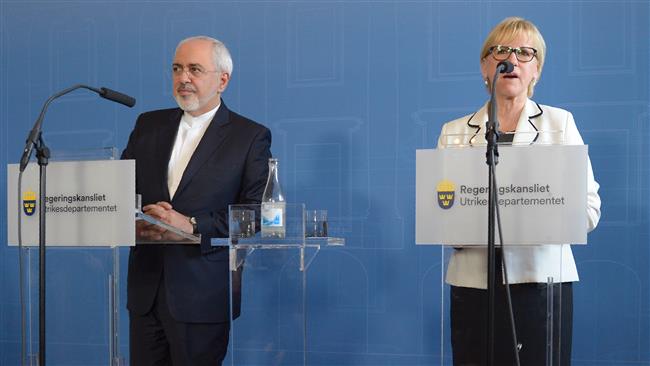 Iran's Foreign Minister Mohammad Javad Zarif says the Islamic Republic is the sole country in the Middle East region with free elections.
The top Iranian diplomat made the remark during a joint press conference with his Swedish counterpart Margot Wallstrom at the Swedish Ministry of Foreign Affairs in Stockholm, Sweden, on Wednesday.
Answering a question about situation of human rights in Iran, Zarif said demonizing Iran over the issue of human rights has become a business for "certain people, adding, "We are the only country in the region with free elections."
He added that there are many ground for cooperation between Tehran and Stockholm, noting that during negotiations with his Swedish counterpart, the two sides discussed political situation in the Middle East region and the role that Europe can play in finding political solutions to regional crises.
Zarif advised European countries not to fall for negative propaganda against Iran by certain people who pursue their personal interest through such propaganda.
Zarif: Extremism, terrorism global issues
In a separate development, the Iranian foreign minister delivered a speech at the Stockholm International Peace Research Institute (SIPRI), noting that extremism and terrorism are two phenomenons, which pose a serious threat to the entire world.
He added that to overcome the existing problems in the world, international issues must be redefined in a new way, emphasizing that extremism and terrorism will not remain limited to a certain geographical region.
Zarif stated that the lose-lose approach in international interactions should be replaced with a win-win approach, saying, "If in international disputes one party is less loser and the other one is more winner, this cycle [of conflict and dispute] will continue to exist" and the world would never see calm and security.
Explaining about recent remarks by his Saudi counterpart, Adel al-Jubeir, who accused Iran of meddling in Iraq's affairs, the Iranian foreign minister said, "I don't know how Iraq is Saudi Arabia's business. When they say do not interfere in Iraq, this is, per se, a form of interference."
Zarif emphasized that Iran is helping Iraq on the request of the Arab country's officials.
"We will leave Iraq whenever Iraqi officials ask us to do so and any time Iraqi officials ask us for our help, we will help Iraq," Iran's top diplomat said noting that Saudi Arabia will soon realize that the Daesh Takfiri terrorist group is its enemy number one.
On the crisis in Syria, Zarif said only the Syrian nation can decide the future of their country and foreign states must avoid interference in the internal affairs of the Arab country and work to facilitate the resolution of the conflict.
The Iranian foreign minister is currently on a tour of four European countries. He heads a politico-economic delegation that began the tour on May 29.
Sweden is the third stop after Poland and Finland. Zarif is expected to visit Latvia as the last leg of his European tour.