Iran
Iran stresses political unity, Islamic thinking to fight terrorism in Iraq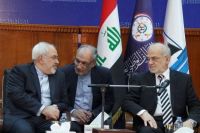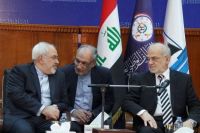 Iranian Foreign Minister Mohammad Javad Zarif in a meeting with Head of the Iraqi National Alliance Ibrahim Jafari underlined the necessity for the establishment of political unity and practice of Islam's ideology in Iraq to fight the terrorist groups.
"Terrorism in Iraq is threatening all the world people from all the different religions, sects and tribes," Zarif said during the meeting on Sunday night, also participated by representatives of different Iraqi political groups.
"Fighting terrorism in Iraq is not limited to military confrontation, but we also need political unity, increasing security and Islamic thinking to confront perverted thoughts of the Daesh (the Islamic State of Iraq and the Levant- ISIL)," he added.
Jafari, for his part, underscored the need for unity in Iraq to confront common threats and the terrorist groups, and called on the UN, the Arab League and all countries to stand beside Iraq in its fight against terrorism.