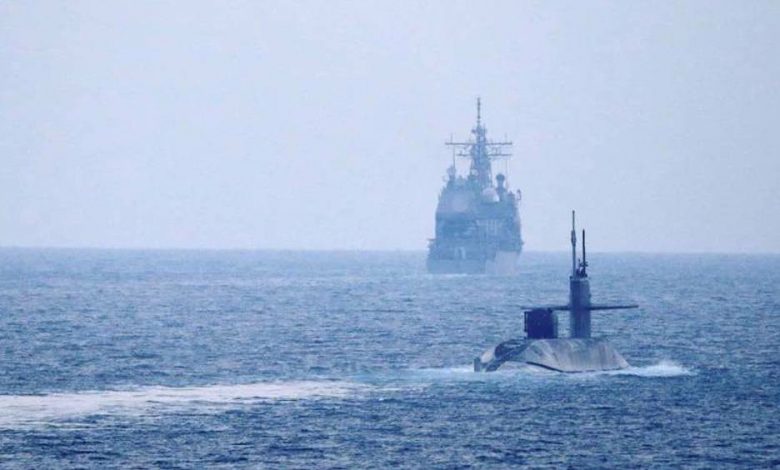 Iran's Foreign Minister Mohammad Javad Zarif has raised the alarm about some suspicious moves by the United States in the region in talks with his Qatari counterpart, warning that Washington bears responsibility for the consequences of any adventurism.
In a phone conversation with Qatari Foreign Minister Mohammed bin Abdulrahman bin Jassim Al Thani on Tuesday, Zarif underlined the need for the participation of all regional countries in ensuring stability and security without foreign interference and free from tensions.
Citing the US's suspicious moves and acts of mischief in the region, Zarif said, "Washington will be responsible for the consequences of any possible adventurism."
The top diplomats also exchanged views on the latest issues concerning bilateral relations and regional developments.
Last week, a nuclear-powered submarine arrived in the Persian Gulf amid rising tensions between Tehran and Washington ahead of the first anniversary of the US assassination of top Iranian anti-terror commander Lieutenant General Qassem Soleimani.
US Navy officials said the USS Georgia had entered the Strait of Hormuz accompanied by two American warships, making it the first missile-loaded submarine of its kind to travel to the Persian Gulf in eight years.
The deployment came in the wake of media speculation that US President Donald Trump may start a war with Iran in his final days in office.
Trump launched his so-called maximum pressure campaign in May 2018 after Washington's unilateral withdrawal from the landmark 2015 nuclear deal and re-imposition of illegal sanctions against Iran.
On Monday, Secretary of Iran's Supreme National Security Council (SNSC) Ali Shamkhani said the increased US military activities in West Asia demonstrate Washington's fears.
"The #USMilitary's increased mobility in the region is a show of defiance & fear because of past evils that increase the entropy of insecurity & lead to harmful misunderstandings. Security in the region can only be achieved through the removal of foreign anti-instability forces," he tweeted.