Economy
Iran
Iraq
Middle East
North America
Iran to raise gas exports to Iraq despite US opposition
Iran is about to raise gas exports to neighboring Iraq to 35 million cubic meters a day this year, head of the National Iranian Gas Company (NIGC) Hassan Montazer Torbati said on Wednesday.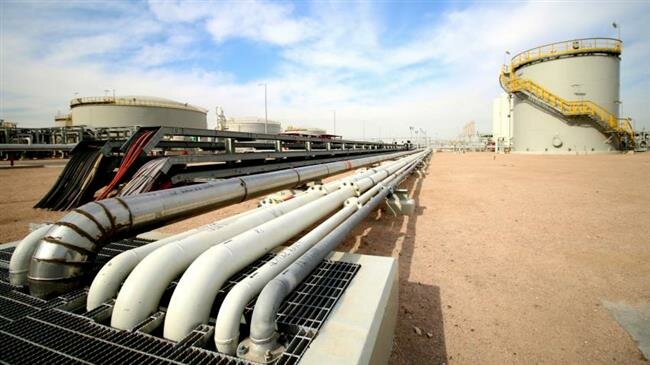 "Last year we exported gas to Turkey, Baghdad and Basra with an average of over 40 million cubic meters a day, and this year, gas exports to Iraq will reach more than 35 million cubic meters per day," he told a news conference in Tehran.
Torbati also said Iran's gas refinery and transmission capacity will reach more than a billion cubic meters a day by the end of the current Iranian year on February 20, 2020.
"We will continue to focus on investing in South Pars and plan to increase gas production by 60 million cubic meters before the coming winter," Minister of Petroleum Bijan Zangeneh said on the sidelines of an oil industry show in Tehran.
Iran will also bring online 18 new petrochemical plants in the current and next Persian years, raising its total capacity to 50 million tonnes which will increase the country's exports to $36 billion a year, he added.
Iran is currently increasing gas exports to a number of countries including Turkey, Iraq, Armenia and Azerbaijan, officials say.
Torbati said in March Turkey, which depends on gas-fired plants for nearly 40 percent of its electricity, had requested to purchase more natural gas from Iran.
Turkey is currently a key importer of Iranian natural gas, with 11 billion cubic meters shifted along the Tabriz-Ankara pipeline annually.
President Recep Tayyip Erdogan has said Turkey will continue to buy natural gas from Iran despite US sanctions chiefly targeting the Islamic Republic's energy sector.
Turkey defies US with more imports of Iranian gasAn official says Turkey has asked to increase imports of gas from Iran which launched four phases of of the world's largest gas field at South Pars last week.
The US has pledged to be "aggressive and unwavering" in enforcing economic sanctions on Iran and not allow any country to flout them, but Erdogan has said Turkey would not remain silent to the "use of economic sanctions as weapons".
Iranian deputy industry minister Mohsen Salehinia said in March Iran and Turkey were negotiating the possibility of setting up joint industrial parks.
"The Turks are demanding cheap Iranian energy for joint production and in case we manage to reach a conclusion with the ministry of energy, a joint town will be set up," he told a news conference in Tehran.
Iraq also relies on Iran for natural gas that generates as much as 45% of its electricity. Iran transmits another 1,000 megawatts directly, making itself an indispensable energy source for its Arab neighbor.
The Trump administration said in March it was extending a 90-day waiver for the second time to let Iraq continue energy imports from Iran.
Iran is the sole foreign supplier to Iraq where energy production and grid capabilities have lagged since the US invasion of 2003 and blackouts in cities are common even with the current purchases.
Iraqi PM in Iran to cement ties in blow to US sanctionsIraqi Prime Minister Adel Abdul-Mahdi is in Iran in a further sign that Baghdad is serious about maintaining close ties with Tehran despite US pressures.
The electricity shortfall is especially acute in the sweltering summers, which led to violent protests in Basra in September and turned into a national crisis.
Iraq's electricity demand is expected to surge again this summer and any cuts in Iranian supplies are set to spark more protests, destabilizing the Arab country.
The Trump administration is pressing Iraq to stop buying natural gas and electricity from Iran, but Baghdad is pushing back against the pressure, the New York Times reported in February.
Washington has warned Iraqi officials to forgo a $15 billion power generation deal with Germany's Siemens and award it to General Electric instead.
The United States has also been trying to scuttle oil swap between Iran and Iraq.
In February, the two neighbors began exchanging crude oil following a 10-day halt which came after the Kurdish Regional Government (KRG) suspended the swap.
Crude from Kirkuk field in northern Iraq is shipped to Iran according to a deal agreed in 2017 to truck 60,000 barrels per day to Kermanshah in western Iran. Iraq's southern Basra port receives the same amount of crude from Iran either by tanker or pipeline.