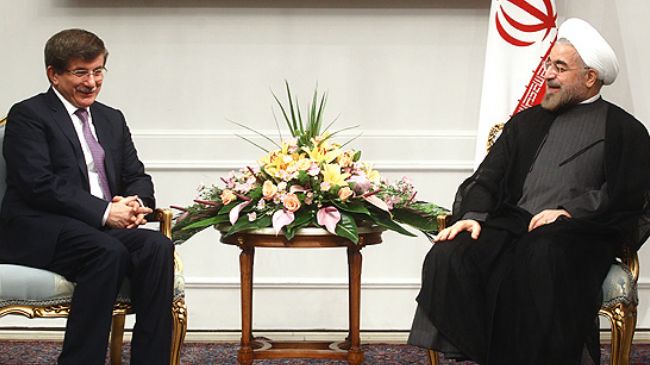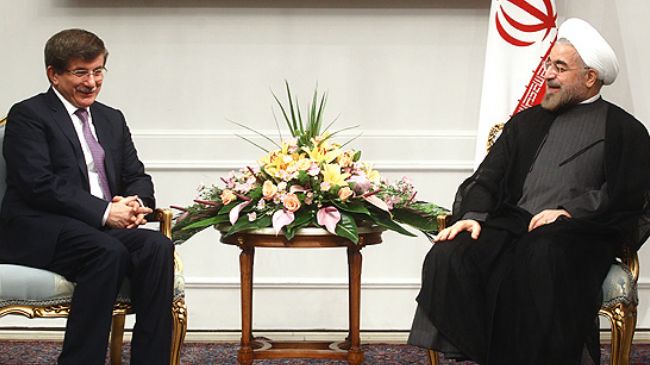 Iranian President Hassan Rohani says the improvement of relations between Iran and Turkey at different levels will play an important role in establishing regional peace and stability.
In a meeting with the visiting Turkish Foreign Minister Ahmet Davutoglu on Monday, Rohani said the two neighboring countries have great capacities for better ties which should be used to strengthen mutual relations at bilateral, regional and international levels.
He added that Iran and Turkey will have "growing" ties in the future.
The Turkish minister, for his part, said his country believes that enhanced relations and cooperation between Tehran and Ankara would serve the two nations' interests.
Davutoglu expressed Turkey's readiness to increase economic cooperation with Iran.
The Turkish foreign minister arrived in Tehran to attend Rohani's swearing-in ceremony which was held on Sunday in the presence of delegations from over 50 countries and top Iranian officials.
Iran's new president took the oath of office on Sunday, one day after being endorsed by Leader of the Islamic Revolution Ayatollah Seyyed Ali Khamenei.
Rohani won Iran's June 14 presidential election with 50.7 percent of a total of over 36 million ballots. The voter turnout in the election was 72.7 percent.