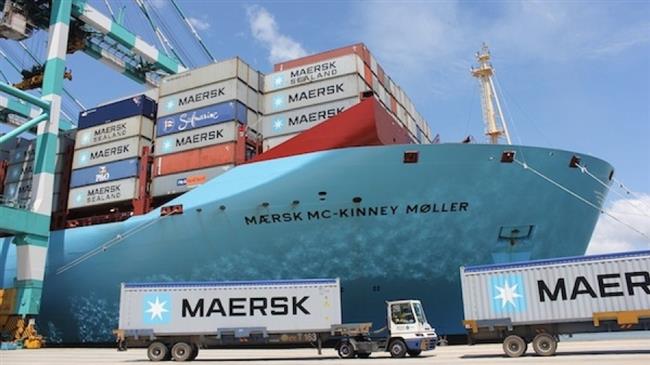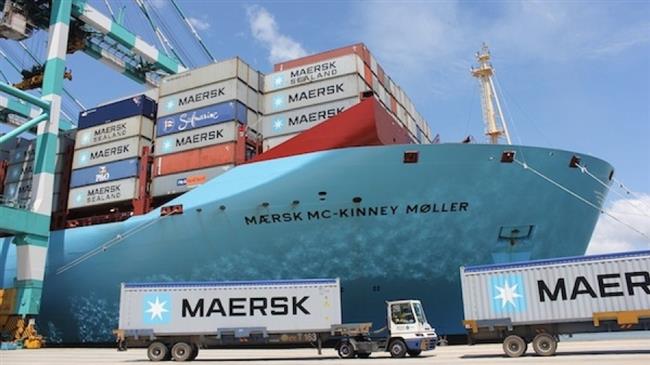 The world's biggest container shipper Maersk Line says it is reviewing Iran operations in the face of US sanctions following President Donald Trump's withdrawal from an international nuclear deal.
Verbal pledges by European governments to shield trade with the Islamic Republic have not stopped companies from pulling out of Iran projects as they face a "wind-down" period of up to six months before the US reimposes sanctions.
On Monday, German container shipping firm Hapag-Lloyd was reported to have stopped one of its two feeder services to Iran.
The Hamburg-based group, which provides third party services to Iran, will decide on the remaining operation before the Nov. 4 US deadline for companies to halt all trade with Tehran, Reuters reported.
The company was awaiting further clarification as to what operations would be permitted after the wind-down period in order to take final decisions on whether to serve Iran, the news agency reported.
Hapag-Lloyd provides third party feeder ships to Iran from Jebel Ali in the United Arab Emirates because it does not have direct dealing with the Islamic Republic.
Danish shipping companies Maersk Tankers and Torm were reported last month to have stopped taking new orders in Iran.
The EU has said it remained committed to the 2015 Iran nuclear deal and the suspension of its own sanctions but European business entities have questioned the viability of continuing their projects after the sanctions kick in.
US sanctions will take six months to kick in, but a number of European companies have already halted their business in Iran.
And in the absence of clear-cut guarantees from the European governments, Iran has started shoring up ties with the countries which stood their ground in the past when Tehran came under similar sancitons.
On Sunday, Iran President Hassan Rouhani met his Chinese counterpart Xi Jinping in Beijing, with China's foreign policy mouthpiece Global Times writing that the visit saw Iran's "comprehensive strategic" relationship with China "upgraded to a new level".
The meeting with China's president Xi Jinping took place on the sidelines of the Shanghai Cooperation Organization summit in the eastern coastal city of Qingdao,
China, the largest buyer of Iranian crude, did not reduce crude imports from Iran even at the height of the previous sanctions against Tehran in 2012.
In the first quarter of 2018, China's imports of Iranian crude rose 17.3% year on year to 658,000 barrels per day, making Iran its sixth biggest supplier.
In their talks, Xi called on the two countries to deepen political relations to enhance strategic mutual trust, increase exchanges at all levels, and continue to support each other on issues of major concern involving their respective core interests, Xinhua news agency reported.
Rouhani also met Indian Prime Minister Narendra Modi who stressed the strategic importance of developing Chabahar Port for expansion of economic and regional cooperation.
India is Iran's second biggest oil customer and its imports are expected to rise this year, even as Nayara Energy, formerly known as Essar Oil, was reported Tuesday to have decided to slash its Iran imports by almost a half.
Iran is India's third biggest energy supplier, selling it around 18.4 million tonnes of crude oil during 10 months between April 2017 and January 2018.
Another key meeting on Rouhani's itinerary was with Russian President Vladimir Putin who criticized the unilateral US move to pull out of the nuclear agreement and reimpose sanctions on Iran.
Rouhani said Iran and Russia should continue multilateral cooperation in the fields of security and regional issues.