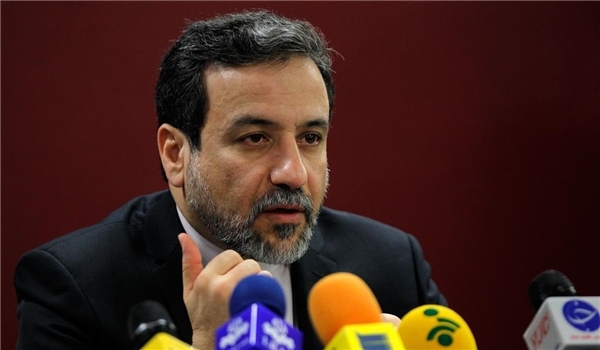 "The international community should confront this wrongful habit of the US to use the power of dollar as a weapon against independent countries," Seyed Abbas Araqchi said, addressing a conference dubbed the International Seminar on Unilateral Coercive Measures and Their Impacts convened jointly by Iran, Cuba, and Venezuela in Vienna on Thursday
The event was attended by foreign diplomats, representatives of international organizations, media representatives, experts, and researchers.
"The US's destructive behavior and its economic terrorism against the Islamic Republic have to stop," he added.
The US has engaged in a campaign of "maximum pressure" against Iran under President Donald Trump. The campaign has seen Washington returning its sanctions against Tehran and enlisting the assistance of its Western and regional allies in enforcing economic pressure on the country.
On Saturday, Iran's Labor Minister Mohammad Shariatmadari said that the US Administration is accountable for crimes against humanity by violating the rights of workers and women.
In a tweet, Shariatmadari protested to Washington over its arbitrary sanctions on Iran, saying that the US Administration is accountable for crimes against humanity by violating the rights of Iranian workers and women.
He posted the remarks on the 100th anniversary of foundation of the International Labor Organization in Geneva.
In a bitter criticism of the US sanctions on Iranian economy, Shariatmadari said that the US anti-human sanctions violate the rights of the workers and women losing their jobs.
The 108th meeting of the international body of labor took place on June 10-21 with the participation of the representatives of governments, labor groups, and employers at the ILO headquarters in Geneva.
On the sidelines of the event, Shariatmadari met with his Syrian, Bulgarian, Malaysian, and Azerbaijani counterparts to share experience and discuss cooperation.
Iran has for long been promoting international cooperation against the US unilateralism and abuse of power.
Early in September, Governor of the Central Bank of Iran Abdolnasser Hemmati announced that Tehran, Moscow and Ankara have agreed to remove the US dollar from their transactions as part of efforts to broaden their trade relations to overcome Washington's mounting pressures.