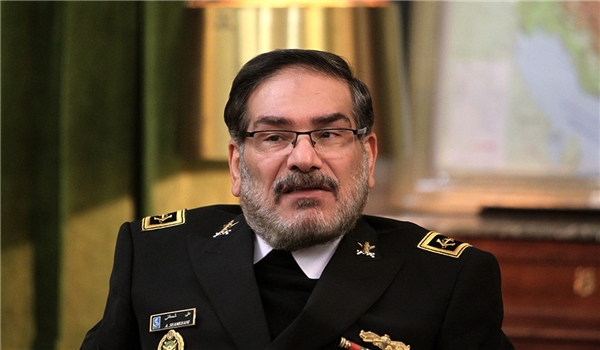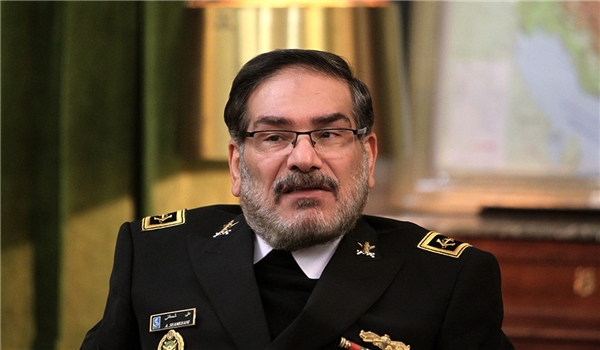 Secretary of Iran's Supreme National Security Council (SNSC) Ali Shamkhani warned President Ashraf Ghani of ISIL's relocation to Afghanistan.
"Enemies of the security and tranquility of the region in an organized move are after fomenting insecurity at the shared borders to transfer the defeated ISIL terrorists to Afghanistan and support the spread of Takfiri terrorism in the country to ignite the flames of war, bloodshed and insecurity in the region once again," Shamkhani said during the meeting in Kabul on Wednesday.
He cautioned that ignoring the threat could end up in re-experiencing the bitter incidents which happened in Iraq and Syria.
Shamkhani also described the US forces' withdrawal from Afghanistan as a golden opportunity to strengthen the Asian country's defense and military capabilities, and said, "The regional nations are counting each moment for a full withdrawal of the US forces as their deployment has resulted in nothing, but war and insecurity."
The SNSC Secretary also held a separate meeting with Chief Executive of the Islamic Republic of Afghanistan Abdullah Abdullah in Kabul on Wednesday.
At the meeting, he warned that the US strategy is based on launching proxy wars, creating Takfiri terrorist groups and rendering nonstop support to them in a bid to spread their hegemony over the region and plunder the regional states with the least costs.
Abdullah, for his part, said that Kabul welcomes Iran's initiatives to fight against the threat of terrorism and bring stability and tranquility back to the region.
In relevant remarks late in January, Supreme Leader of the Islamic Revolution Ayatollah Seyed Ali Khamenei expressed deep regret over the massacre of the Afghan people in terrorist attacks, blaming the US for the tragedies by transferring the ISIL terrorists to Afghanistan to guarantee its presence in the region.
"The US goal of transferring the ISIL terrorists to Afghanistan is justification of its continued deployment in the region and establishment of security for the Zionist regime," Ayatollah Khamenei said, addressing the Iranian seminaries in Tehran.
"The same hands which used the ISIL as a tool to oppress and commit crimes against the people in Syria and Iraq by its creation, is today after transferring the ISIL to Afghanistan after sustaining defeat in those regions, and the recent massacres are actually the start of this plot," he added.
Ayatollah Khamenei said that the US-backed terrorists don't differentiate between the Shiites and Sunnis, and added, "The US wants this region not to see good days and wants the regional governments and nations to be busy with their own affairs so that they don't think of opposing the evil agent of arrogant powers, that is Zionism."
He described the United States' other goal of creation of insecurity as justification of its presence in the region, and said, "The Americans, themselves, are the main cause for insecurity in Afghanistan and the killings in this region since 20 years ago under the name of religion were carried out, directly or indirectly, by the US agents, and they are now after guaranteeing their presence by fomenting insecurity and attaining their political and economic objectives."