Iran
North America
Iran vice presidency for women's affairs slams Press TV anchor's detention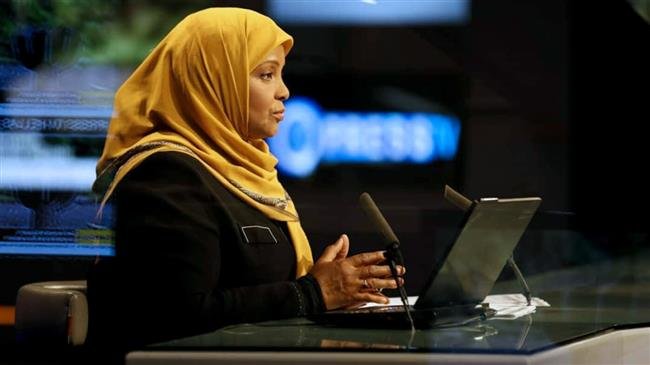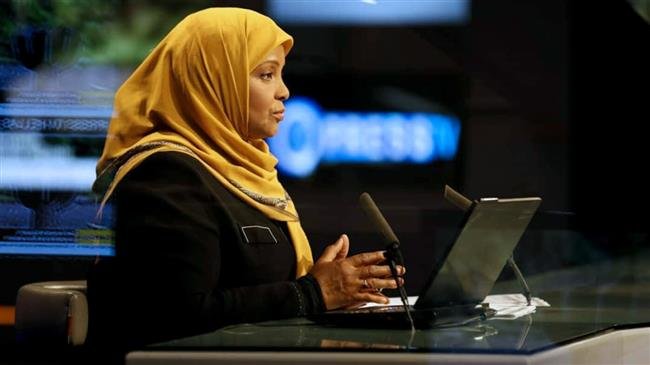 Iran's Vice Presidency for Women and Family Affairs has denounced the detention of Press TV news anchor Marzieh Hashemi, who has been taken into custody by the Federal Bureau of Investigation (FBI) as material witness in an unspecified case.
In a statement published on Sunday, the vice presidency expressed its support for the inalienable humanitarian rights of the female Muslim journalist, calling on Iranian officials to do their best to secure Hashemi's release.
'US trampling on its principles by arresting Hashemi'
In a related development also on Sunday, Iran's Minister of Information and Communications Technology (ICT) Mohammad Azari Jahromi said the US administration has once again trampled on its own principles by detaining Press TV's anchorwoman.
In a message on his Instagram account, Azari Jahromi commended Press TV's approach to actively engage global issues, which has revealed true colors of the US government.
"The US government has once again trampled on its own basic principles. It would be very good if this model of active engagement were taken as a role model by modern media and social networks and cyberspace," he said.
Hashemi's detention reveals US government's weakness: Salehi
Meanwhile, Iranian Vice President and Head of the Atomic Energy Organization of Iran (AEOI) Ali Akbar Salehi told reporters on Sunday that the detention of Press TV news anchor has revealed the weakness of the US government, which always claims to be a "beacon of democracy in the world."
"What kind of democracy is this that a women who has traveled there to visit her family and is a hard-working journalist who has done nothing but reporting, is detained by them and nobody says anything," he added.
The Iranian nuclear chief criticized silence of Western countries, particularly the European Union, in the detention case of Press TV's anchor, saying, "When an issue is in line with their interests, Western countries raise Cain, but when such unfortunate cases happen in which the innocence and truthfulness of this lady is evident to everybody, they remain totally silent."
Salehi stated that the EU says a lot about the situation of human rights in Iran, so "why it has kept lull in this case?"
"Isn't she a journalist? She has been both a journalist and [has] family and is also a mother… What have they done? They say she has been detained as a witness, but is anybody sent to jail because of being a witness?" Salehi concluded.
'US government must immediately release Hashemi'
In another development, Iran's Human Rights Youth Organization lashed out at the US government for arresting Press TV's anchor and urged her immediate release.
In a statement, the organization said the violent and humiliating behavior of the US police, who put Hashemi's hands and feet in chain, was a blatant violation of the freedom of speech and human rights.
The Press TV journalist's detention is another case of violation of the rights of African-Americans by the US, the organization said, adding, "It seems there is no end to the breach of national and international rights by the US government."
"What has happened to Press TV's journalist, Ms. Marzieh Hashemi, in America, apart from its human rights aspects, is another example of the Western- and American-style human rights, which indicates West's true nature and [the falsehood of] its slogan about the free flow of information," the statement added.
The organization then urged all the freedom-seeking countries in the world, the United Nations, the UN Human Rights Council and the UN High Commissioner for Human Rights to make a serious effort to secure Hashemi's release as a humanitarian measure.
WP: Material witness warrants rare, Hashemi's case first this year
In a report published on Saturday, the Washington Post said the US judicial authorities rarely issue material witness warrants, and the warrant issued for Press TV's anchorwoman was this first of its kind this year.
"Hashemi's case is the first such filed in federal court in Washington this year, and the court's electronic docketing system indicates only two such cases were filed last year. Both are still under seal," the report added.
The Washington Post's article came after the US government confirmed Friday that it has been holding Marzieh Hashemi in jail since last Sunday as a "material witness" in a case in federal court in Washington.
The newspaper also quoted Hashemi's attorney, Preston Burton, as saying, "Marzieh Hashemi's perseverance has been remarkable in the midst of difficult circumstances, and it is my privilege to represent her. She is heartened by the many expressions of concern about her well-being, and we expect that she will soon return to her family, her home, and her career."
Hashemi, a 59-year-old American-born Muslim convert who has been living in Iran for years, was detained at St. Louis Lambert International Airport in Missouri last Sunday while she was in the US to visit her ill brother and other family members.
She was transferred to a detention facility in Washington DC, where she was forced to remove her hijab and only offered food not permissible under her Islamic values.
After days of silence, the US government confirmed on Friday that it was holding Hashemi in jail as a "material witness," and that she would be released after she testified before a grand jury.
Chile's Association of the Relatives of Executed Political Prisoners (Agrupación de Familiares de Ejecutados Políticos) said on Saturday that the detention of Press TV news presenter is appalling.
Speaking to Iran's Spanish-language television channel, Hispan TV, Alicia Lira Matus, the AFEP's president, said the association condemned the US maltreatment of Hashemi, particularly when she was forced to remove her hijab.
In a message released on Saturday, Hashemi's family and friends called for her immediate release.
They said that she must be freed forthwith and be treated as an ordinary witness given her cooperation with US judicial authorities and the absence of any charges against her.