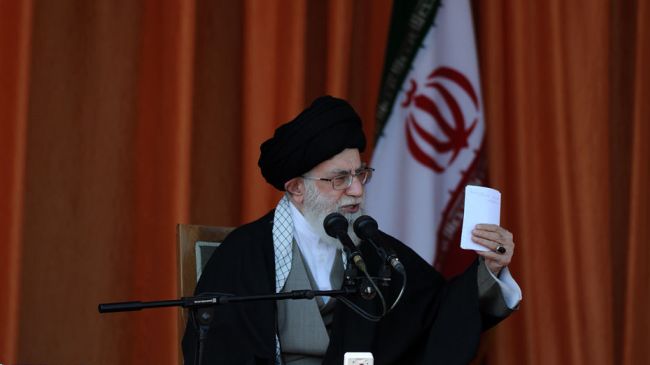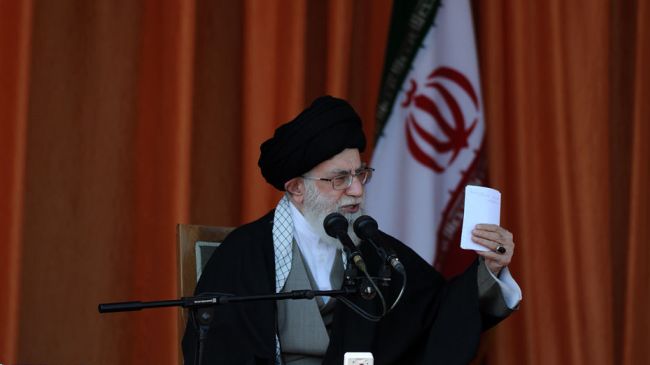 Leader of Islamic Ummah and Oppressed People Imam Ali Khamenei has downplayed Western sanctions against the Islamic Republic, saying the Iranian nation will overcome problems as always.
"Today, our enemies magnify sanctions. Sanctions are not an issue of yesterday or today. Sanctions have existed from the very beginning; they intensified the sanctions, which didn't work; they intensified them again; these won't work either," Ayatollah Khamenei said in a speech to tens of thousands of people in the province of North Khorasan on Wednesday.
The Leader said that the US and certain European countries seek to link sanctions to Iran's nuclear energy program, adding that the main reason behind the anti-Iran embargos is not the nuclear issue but the Iranian nation's resistance against the global hegemony.
Leader of Islamic Ummah and Oppressed People Imam Ali Khamenei dismissed claims by the US and its allies that they will lift sanctions against Iran if Tehran abandons its nuclear energy program.
"They pretend that the sanctions will be lifted if the Iranian nation gives up nuclear energy. They lie. They make decisions out of grudge and aversion [toward Iran] and impose irrational sanctions."
The Leader, however, stressed that the Iranian nation will emerge victorious in the battle as it has overcome much bigger problems over the past 33 years.