Iran
Middle East
North America
Iranian Cleric: American Imperialism on Wane
The domestic problems in the US have embarrassed the American administration, Tehran's provisional Friday prayers leader said, stressing that the US imperialism is at a low ebb.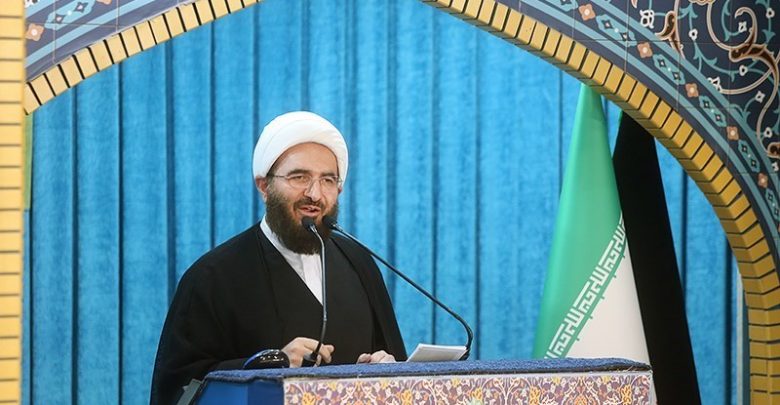 Addressing worshippers in Tehran on Friday, Hojjatoleslam Mohammad Javad Haj Ali Akbari likened the US government to "an old and tired lion" that growls every once in a while to scare the cowards.
"We are witnessing the decline of US imperialism every day," he added, saying the internal developments in the US have embarrassed the Washington government.
The cleric also noted that the US has been plotting to harm the axis of resistance in order to make up for its defeats.
The US is trying to hijack the ordinary protests in Iraq and Lebanon, he added, pointing to the plot to attack the Iranian consulate in the Iraqi city of Najaf.
Haj Ali Akbari also lashed out at the US, Europe and certain small governments in the region for diplomatic supports for the recent unrest in Iran, saying they had made arrangements for two years to foment unrest in the Islamic Republic.
Following a hike in the price of gasoline earlier this month, a number of Iranian cities saw sporadic protests that turned violent in some cases. A number of banks and government buildings were set ablaze.
Meanwhile, anti-Iranian media outlets as well as some Western officials, including US Secretary of State Mike Pompeo, voiced their support for the rioters who took advantage of the protests in a number of Iranian cities.
In remarks on Wednesday, Leader of the Islamic Revolution Ayatollah Seyed Ali Khamenei praised nationwide rallies held over the past week in support of Iran's Islamic Establishment and said the people managed to thwart "a very dangerous conspiracy" hatched by the enemy.
"The grave, extensive and very dangerous conspiracy that the Global Arrogance (the US) and Zionism spent so much on and worked for so that they could cause this destruction, villainy, and murder in Iran at a crucial time was quashed by the presence of the people," the Leader stated.