Iran
Middle East
North America
Iranian Envoy: US Economic Terrorism Biggest Threat to N. Deal
Iranian Ambassador to Britain Hamid Ba'eidinejad said that the US economic terrorism against Tehran is putting the 2015 nuclear deal between Iran and the world powers in a big danger.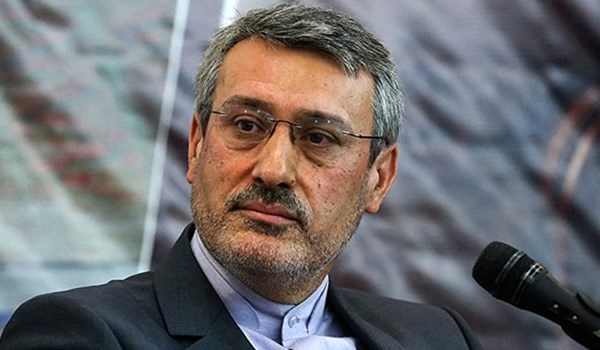 Ba'eidinejad expressed the hope that every one would be aware of the fact that the US economic terrorism against Iran posed the biggest threat to the Iran nuclear deal known as the Joint Comprehensive Plan of Action (JCPOA) and regional security.
He wrote on his twitter page that the US will paralyze the Instrument in Support of Trade Exchanges (INSTEX) by adopting counter-measures in a bid to thwart the EU diplomacy.
US media 'Bloomberg' reported on Monday that the US is reviewing sanctions on the parallel mechanism of INSTEX in Iran.
In relevant remarks on Monday, Iranian Foreign Ministry Spokesman Seyed Abbas Mousavi criticized Europe for its late reaction to the US withdrawal from the 2015 nuclear deal, saying that Tehran has not pinned hope on implementation of the INSTEX.
"What the Europeans have to do and what they have done have not satisfied us so far," Mousavi told reporters in a press conference in Tehran.
He said the European signatories of the deal (Britain, France and Germany) wasted a lot of time before taking action in response to US President Donald Trump's pullout from the landmark agreement last May.
"The first step which the Europeans took after the departure of the US was late and we said just then that this step, although having created a tiny bit of hope, is overdue," Mousavi said.
He said Tehran saw Europe's behavior after unveiling INSTEX as a testament to its "inability" to protect Tehran's interests in the face of US pressure.
"There is no will to resist the illegal demands that violate international norms in their entirety," Mousavi said.
He made it clear that Iran had chosen not to put much trust in the payment mechanism, adding, "We haven't put much hope in INSTEX.
"If INSTEX had been going to help us, it would have done so already," Mousavi underlined.