Iran
Iranian-made combat drones, copters join IRGC naval fleet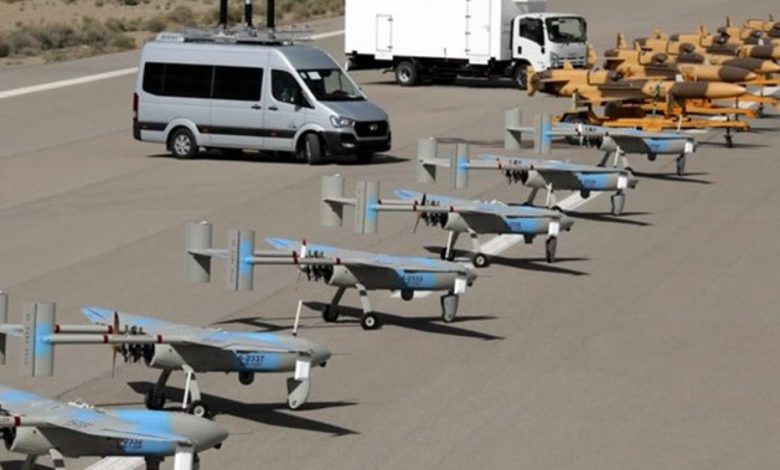 The naval fleet of the Islamic Revolution Guards Corps (IRGC) has received 188 combat drones and helicopters developed by Iranian aviation experts.
Speaking during a ceremony in the southern port city of Bandar Abbas on Wednesday, IRGC Navy Commander Rear Admiral Alireza Tangsiri said the drones can be used for aerial photography in combat zone to help with the acquisition of moving and stationary targets at sea.
He said the unmanned aerial vehicles (UAVs) are also capable of monitoring all maritime movements.
Tangsiri said three of the drones, namely vertically-launched Sepeher, Shahab-2 and Hodhod-4, have been unveiled for the first time. The sea-launched drones can be used for reconnaissance missions.
Mohajer, one of the UAVs joining the IRGC naval fleet, has a flight range of more than 200 kilometers and is capable of carrying four missiles in all weather conditions, the commander noted.
Of the helicopter types that were unveiled during Wednesday's ceremony, two can land on water, while four others have combat capabilities and can carry missiles, he added.
'IRGC drones detected US strike group near Hormuz Strait'
"With the drones having joined [the naval fleet], all missions of the IRGC navy will be covered by indigenous Iranian drones," Tangsiri said.
In the most recent mission, he explained, IRGC drones intercepted the American USS Nimitz aircraft carrier, along with its flotilla of navy ships, before they cruised through the Strait of Hormuz and into the Persian Gulf last week.
IRGC chief: Iran defense power rising
Also speaking at Wednesday's ceremony, IRGC Chief Commander Major General Hossein Salami said Iran's naval power has not remained confined to the surface of the sea and the Navy has promoted its capabilities in aerial and subsurface warfare.
"We are decisively and steadily bolstering our power. We will never stop and will increase the range of our weapons," he said
He said the United States is today largely despised by the people of the world and even Americans themselves.
"All world nations are standing against the United States, and so are we. We will grow stronger day by day. The Iranian nation's patience and presence shines before the eyes of the world, and the world learns lessons of resistance from Iranians," Salami added.
In the past, whenever the US faced a challenge, it would solve it though warfare, "but today America is no longer able to heal its wounds," Salami underlined.
"We see that the enemy has not succeeded in either direct or proxy wars," he said. "The enemy is now standing alone at the Security Council and the United Nations."
The global arrogance has resorted to wars, draconian sanctions, psychological operations and political pressure to gain dominance on Islamic Iran, but all their hostile measures have failed by God's grace, the commander said.