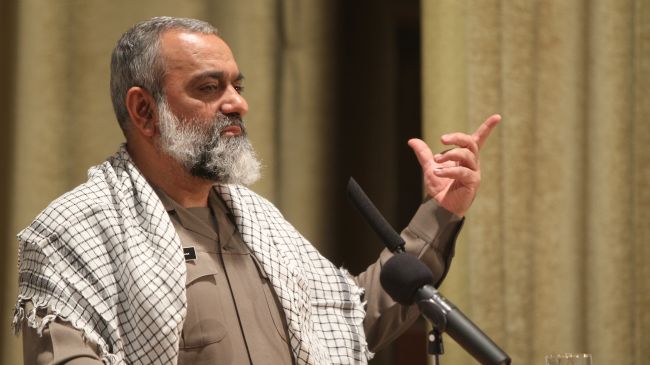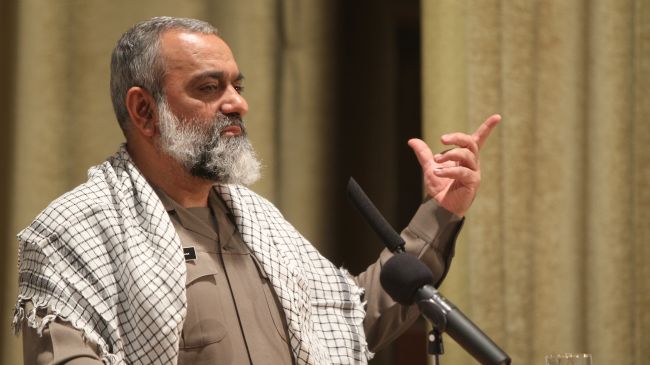 Commander of the Basij Forces Brigadier General Mohammad Reza Naqdi says the wise Iranian nation will not be deceived by the US offer of talks, urging Washington to stop its hostile policies toward Iran.
"Friendship with the Iranian nation will begin when the US fleet leaves the Persian Gulf and its military bases in the Persian Gulf littoral states and Afghanistan get removed," Naqdi said on Thursday.
The US can speak about talks with the Iranian nation when it removes spy satellites, terrorist networks, news agencies and military bases from the region, he added.
The commander emphasized that the enemy cannot use the old trick of negotiations to hatch plots against the Iranian nation.
Naqdi said that Basij forces are telling the US and its allies on behalf of the Iranian nation that "the current decade is the decade of Israel's obliteration."
If Western analysts and strategists are unable to comprehend this issue, the Iranian people will prove it to them, he pointed out.
Naqdi said that the arrogant powers' remarks are currently vetoed by the nations' determination, adding we convey this message to the enemy that the era of bullying has come to an end.
At the 49th annual Munich Security Conference in Germany on February 2, US Vice President Joe Biden said Washington was ready to hold direct talks with Iran over the country's nuclear energy program.
However, he noted, "There will be continued pressure."
On February 6, Leader of the Islamic Revolution Ayatollah Seyyed Ali Khamenei rejected talks with the United States under pressure and threats.
"An offer of talks makes sense only when the side [that makes the offer] shows its goodwill," Ayatollah Khamenei said.
The US has spearheaded several rounds of sanctions against Iran in recent years, based on the unfounded accusation that Iran is pursuing non-civilian objectives in its nuclear energy program.
Iran vehemently rejects the allegation, arguing that as a committed signatory to the Non-Proliferation Treaty (NPT) and a member of the International Atomic Energy Agency (IAEA), it has the right to use nuclear technology for peaceful purposes.