Iran
Iranian nation will stand united to overcome all problems: President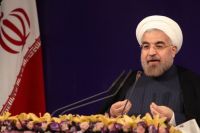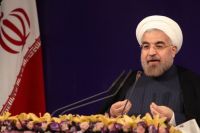 President Hassan Rouhani says Iranian nation will stand united to overcome all ups and downs.
According to IRNA, he made the remarks in a meeting with lawmakers from West Azarbijan province in Tehran on Monday.
Referring to the ongoing talks between Iran and G5+1, President Rouhani said that the negotiating team has the support of the Leader of the Islamic Revolution (Ayatollah Seyyed Ali Khamenei) and the people and will do its best to defend the nation's rights.
Pointing to the sectarian violence in Iraq and Syria, he noted that national unity is an important factor which can thwart all threats.
President Rouhani underscored that West Azarbijan Province has good potentials for development and it is the country's transit route which connects Iran to Turkey and Iraq.
Meanwhile, the president received new ambassadors from Croatia, Brunei, Kyrgyzstan, China, and Malaysia, during which he shed light on the developments in the region and matters of mutual interest.