Iran
Middle East
North America
Iranian President: Terrorist Gov't Ruling US
Iranian President Hassan Rouhani blasted Washington for assassination of Islamic Revolution Guards Corps (IRGC) Qods Force Commander Lieutenant General Qassem Soleimani and practicing economic terrorism against Iran as the nation is grappling with the coronavirus epidemic.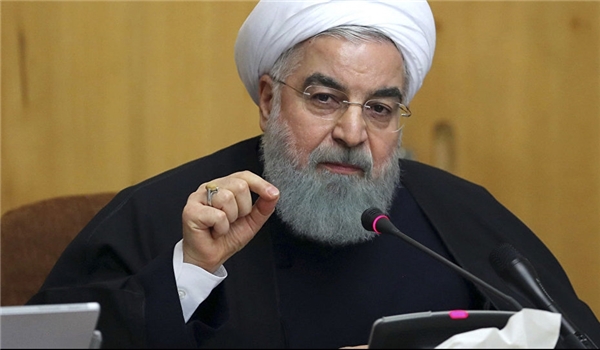 "The worst and most evil government is now ruling the US. Which government do you know that assassinates our military commander while on a mission," President Rouhani said, addressing a cabinet meeting on Wednesday.
"The US has always been terrorist but to this extent is unprecedented," he added.
President Rouhani said that the US has always stood against independent and oppressed nations, adding that the US sanctions place obstacles to Iran's import of medicine, while the country is grappling with the coronavirus epidemic.
He added that no administration in the White House has been so much inhuman and cruel as the Trump administration, noting that his Secretary of State Mike Pompeo also seems so much unfamiliar with politics.
Lieutenant General Soleimani and Deputy Commander of Iraq's Popular Mobilization Forces (PMF) Abu Mahdi al-Muhandis were assassinated in a US drone strike on Baghdad International Airport in Iraq on January 3.
On January 8, the IRGC Aerospace Force started heavy ballistic missile attacks on US Ein Al-Assad airbase in Southwestern Iraq near the border with Syria and a US operated airbase in Erbil in retaliation for the US assassination of General Soleimani.
Meantime, Iranian Health Ministry Spokesman Kianoush Jahanpour announced on Tuesday that 1,481 new cases of coronavirus infection have been identified in the country in the past 24 hours.
Jahanpour noted that the number of coronavirus patients in the country has increased to 110,767 people.
He said that 6,733 people have lost their lives due to infection to the virus, including 48 in the past 24 hours.
The Iranian foreign ministry declared that despite Washington's claims of cooperation to transfer drugs to Iran via the new Swiss-launched payment mechanism, the US is troubling the process amid the coronavirus outbreak in the country.
Although US claims that medicines and medical equipment are not under sanctions, they have practically blocked the transfer of Iran's financial resources in other countries into the Swiss Humanitarian Trade Arrangement (SHTA), Iranian Foreign Ministry Spokesman Seyed Abbas Mousavi said.