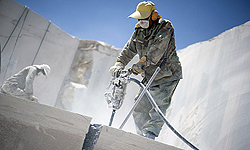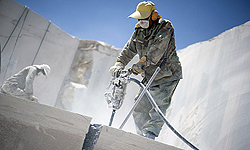 Iranian researchers produced a light, hardened stone with increased quake-resisting capabilities that can immunize buildings against earthquakes to unbelievable degrees.
The invention which has been done through an application of nanotechnology was reported in a Saturday edition of the Persian-language daily, Khorassan.
"With the help of nanotechnology, Iranian researchers have made a façade stone which makes the building more immune to earthquake, while increasing the building's resistance," the paper said.
The report said the newly invented stone is much lighter than those normally used in building constructions, while its strength is 3 to 4 times more.
Iran has taken wide strides in various areas of science and technology in different fields in the last decade, specially in area of nanotechnology.
Last week, an Iranian researcher said that Iran is standing among the 10 best leading countries of the world in nanotechnology, adding that the country also ranks first in the Middle-East in this field.
"Iran is among the 10 superior world countries in nanotechnology science and has grasped the first rank in the Middle-East in the field," the Iranian nanotechnology scientist, Zeinab Fereshteh, told FNA.
She also said that Iran ranks 25 in the world in utilizing nanotechnology in different industries and in commercialization of products.
The nanotechnology growth indicators for Iran have marked a high rise during the recent years as in the total number of the scientific publications, the country has just jumped up two ranks (at the beginning of 2012) to stand 10th in the world. Iran ranked 14th, in the same list, at the beginning of 2011.
Head of the Policy-Making Workgroup of the Iran Nanotechnology Initiative Council (INIC) Dr. Ali Mohammad Soltani announced in August that over 3% of the world publications on nanotechnology belong to Iranian researchers and scientists.
"More than 3% of the all published scientific journal articles associated with nanotechnology is due to Iran and that is while the country constitutes merely one percent of the world's population," Soltani said.
"This formulated plan well indicates the long-term and panoramic perspective of the Iran's nanotechnology authorities and according to the Iran's Holistic Scientific Map on Sciences, the country is supposed to possess a two-percent world share in the production of nanotechnology-based products," Dr. Soltani said, referring to the ten-year strategic plan of the INIC for nanotechnology.
Soltani underlined the fact that Iran enjoys the residence of 4,000 nanotechnology specialists, and said "At the moment, we are training about 1,159 PhD and 3,989 MSc students in different fields of nanotechnology in Iran."